Meet Rachel Sandby-Thomas | AUA Career Stories
---
Rachel Sandby-Thomas
Registrar
University of Warwick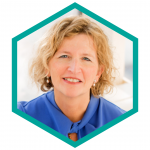 ---
How long have you worked in HE and what was your first position?
I've worked in HE for 4 years and came straight in as Registrar. I came in feeling very complacent as I had previously been a Director General in the Department for Business for 8 years and thought there was nothing that could be thrown at me in terms of workload and intensity that I hadn't experienced before. How wrong I was! That being said, I do think my previous experience has been enormously helpful, even if it was only having the confidence to not only cope but enjoy!
What do you value most about working in HE?
I love the complexity, especially of the internal stakeholder cast list, and the variety of things that we deal with. I am very glad of my supportive network of fellow Registrars and the fact that we can have a laugh together, as well as swapping travails and war stories. And I love the presence of so many young people on the campus with all of their potential. Judging the winner of the annual Outstanding Student Contribution Awards is my highlight…a deeply humbling experience.
What do you think is the most overused phrase in HE?
"We've always done it like that…."….it drove me mad in Government too. It immediately makes me resolved and impatient to change (which isn't always a good thing…)
What is your personal philosophy?
Don't do it if you don't enjoy it. Life is too short and we spend too much of our lives at work. I aim for 80% enjoyment as a minimum.
Where is your favourite place to be?
In a villa where we have holidayed for 7 summers. It is in the North Eastern tip of Zakynthos. It is a converted olive press, has exquisite views off a large sheltered balcony, is cosy and stylish at the same time, and the locals are lovely. Wish I was there now.
What would you most like to tell yourself at age 13?
That when Margaret Rogers from your class at school, described you as "self-assured", she meant it as a compliment, not an insult. It's taken me over 40 years to realise that.
---