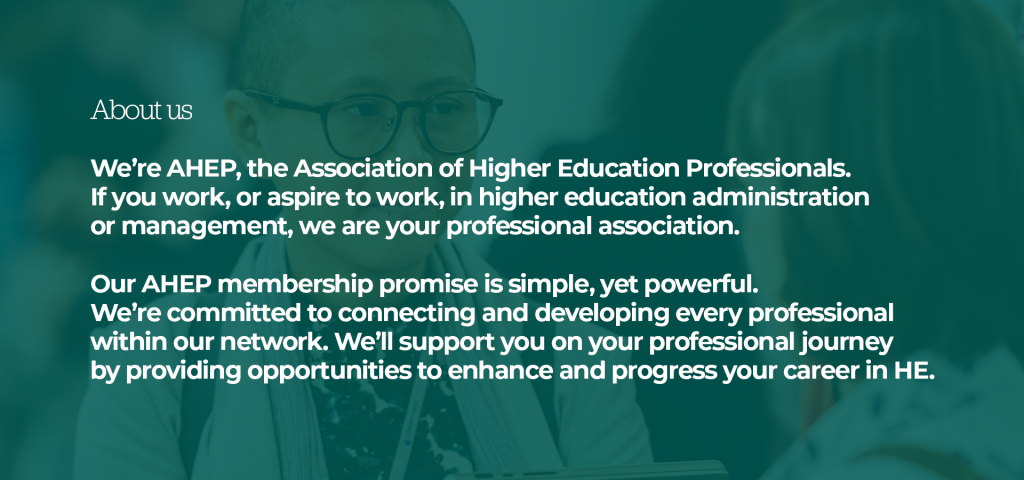 Who we are and what we do:
AHEP is the professional Association of Higher Education Professionals. As well as being a representative voice for HE professionals within our sector, we're here to support and guide you, our members, as you define and develop your career ambitions.
Think of us as an extension to your professional network. By connecting with like-minded individuals you can look beyond your current role and institution and become part of the wider sector. Through these connections you can share learning, encourage best practice and, importantly, help give our sector, your profession and you as an individual added credibility.
Our approach is simple, yet powerful. We're committed to uniting and developing every professional within our network. That's what makes us unique. In fact, we can sum up AHEP in one simple sentence:
Connecting and developing higher education professionals.
Our History: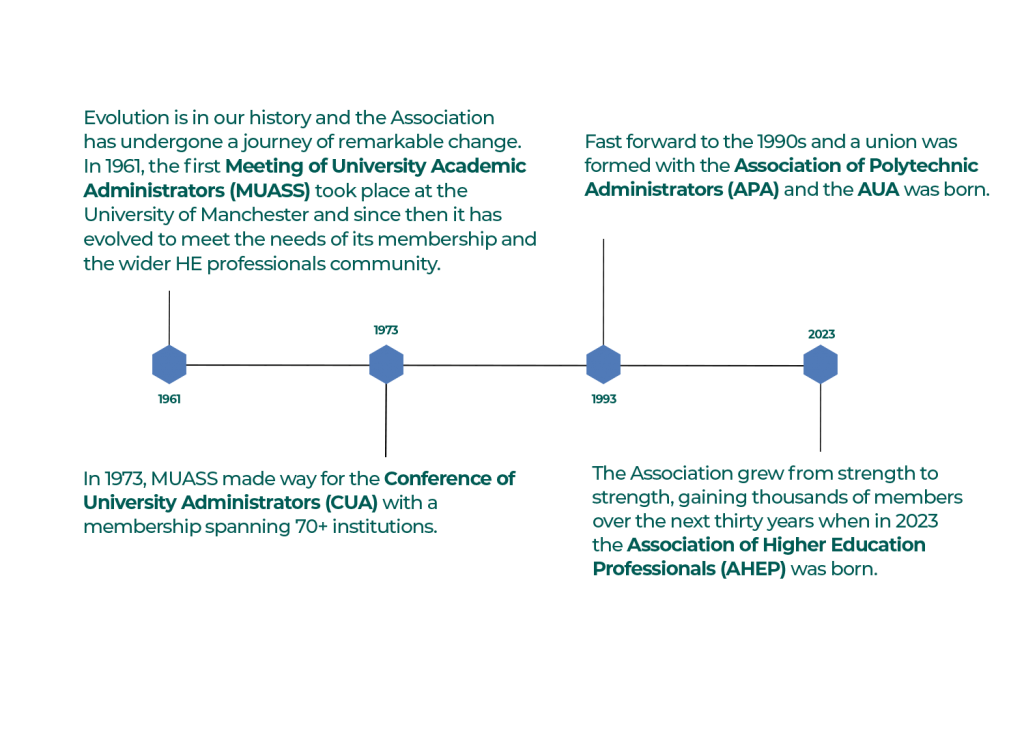 The world was a different place in 1961. JFK was sworn in as US President, Barack Obama was born, the Berlin Wall was constructed and the first Meeting of University Academic Administrators (MUASS) took place on a Saturday at the University of Manchester.
In 1965, membership of MUASS stood at 120. By the time Dr Christian Barnard performed the first heart transplant, in 1967, MUASS membership had risen to 473, representing 73 institutions.
In the same year that the United Kingdom joined the European Economic Community, 1973, MUASS made way for CUA, the Conference of University Administrators. Fast forward twenty years and while the Maastricht Treaty was opening doors to one union, we were busy with our own. In 1993 CUA and APA (Association of Polytechnic Administrators) merged to become the Association of University Administrators, the AUA.
The Association grew from strength to strength, gaining thousands of members over the next thirty years when in 2023 the Association of Higher Education Professionals (AHEP) was born. We've experienced some challenging times and seen incredible change. Higher education has moved on and developments in our sector continue to take us to new and uncharted places.