Volunteer roles at AHEP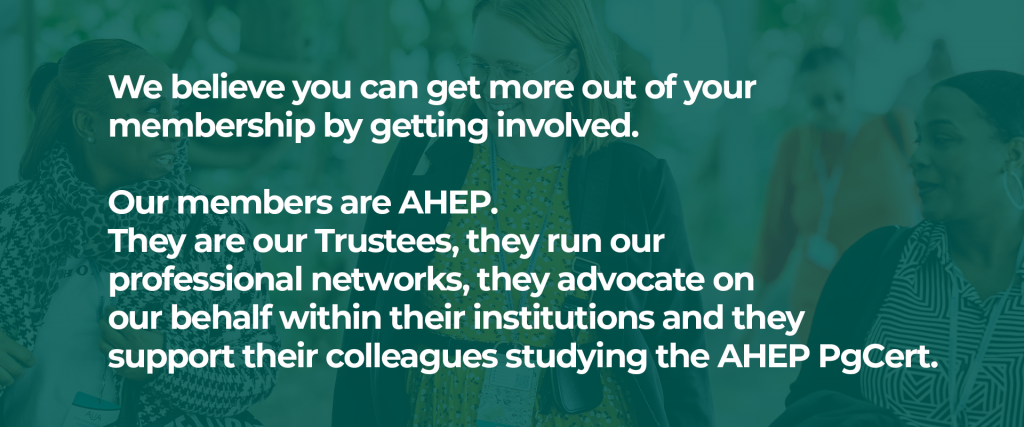 Being a volunteer opens up new opportunities that can develop skills outside the remit of your day job. It enhances your professional profile by connecting you up to new networks and actively involves you in professionalising the HE sector.
Roles at AHEP
Network Coordinators and Ambassador
AHEP is a professional community that thrives at a national, regional and local level because of the commitment and enthusiasm of our Network Coordinators and Ambassadors. Our Network Coordinators and Ambassadors represent us at their institutions and organisations; raising awareness of AHEP, recruiting new members, motivating current members to actively participate in our activities and their professional development and communicating local ideas to the AHEP team to keep us in touch with you and your needs. 
PgCert Mentors
PgCert Mentors provide one to one support and encouragement specifically to a PgCert student, acting as a critical friend for the duration of their study. By sharing your professional experience you'll make a real contribution to someone's career development, while developing new skills and knowledge yourself.
AHEP Mentoring
Our AHEP mentoring scheme offers you the opportunity to support a colleague with their professional development and their career aspirations. Our bespoke online platform allows you to connect with other AHEP members looking to develop themselves within the sector.
Trustees
The opportunity to become a Trustee of AHEP is open to all full members of the Association. Serving as a Trustee is both a rewarding way to give back to the Association and an excellent form of professional development.