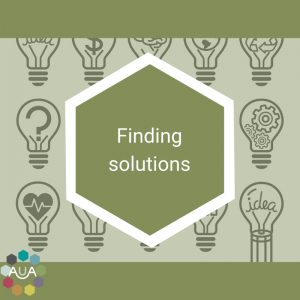 Finding Solutions
The 'finding solutions' behaviour describes the ability to analyse problems and develop workable and often innovative solutions. To be strong in this behaviour you will seek input from those around you as well as encouraging others to develop their own solutions. The AUA can help you to develop this, as it has plenty of resources that allow you to share best practice and learn from what your peers across the sector are doing.
Our member forums are a great place to start if you have a specific challenge you are looking to overcome. The forums allow you to connect with members from across the country. You can post questions and answers, so you can easily find out how someone in another institution has approached a challenge similar to your own and you can help members out by responding to their questions.
Another way that you can access the knowledge and experience of other members is through our Good Practice Guides. These guides are designed to give you a comprehensive overview of best practice in specific roles or tasks in the HE sector, and so they're an excellent way to educate yourself on new procedures or areas. If you feel that there is an area of HE that is not covered in the guides and which you are an expert in, then why not write a guide for us? We are always looking to expand the collection to make sure our members can access as much knowledge as possible.
Finally, in the current climate, all of us are facing new challenges in our work life as our duties and working environment have dramatically changed. It's important to remember that you're not alone in adapting to new ways of working, so we have created a new section of our website Work and Covid where you can find a collection of resources that give tips and advice for overcoming these challenges.
Hopefully this brief overview has demonstrated the variety of resources that the AUA can offer to help you develop the 'finding solutions' behaviour and inspired you to look for new ways to overcome professional challenges.