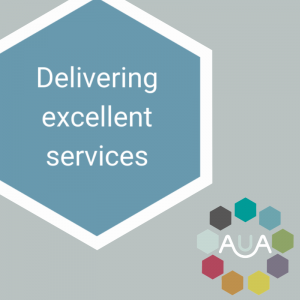 Delivering excellent service
The behaviour 'delivering excellent service' is all about providing the best quality service, whilst also building up genuine long-term relationships in order to drive up service standards. Although this is more relevant for some HE professional service roles than others, all of us want to deliver the best possible outcomes at work and therefore we could all benefit from developing this behaviour using some of the activities explored in this blog.
If you work in a student facing role, then the 'delivering excellent service' behaviour is likely to be especially important in your role. In order to connect with colleagues with an interest in this area from different institutions, you might like to join the recently created Student Engagement and Experience network. With members from across the country, you can easily learn from and share best practice with peers.
If you feel that your current role only offers you limited possibilities for developing this behaviour and you would like to do more, you could consider applying for one of our volunteer positions. We offer a variety of volunteer roles, such as network coordinators and advocates, which provide the opportunity to develop skills outside of those you use day-to-day. It is the commitment and enthusiasm of our volunteers that keeps the AUA vibrant and relevant at a national, regional and local level. Want to know more? In his AUA Career Story, Steven Altham tells us about his experience in his volunteer role as Deputy Network Coordinator for our North Wales and North West regional network. You can view any current volunteer opportunities on our vacancies board.
Similarly, in his blog 'Organising an AUA Regional Network Event', Merlin Harries explains how his time as Regional Network Coordinator allowed him to develop, as he learnt how to successfully organise a local AUA event. The practical tips and take-aways that Merlin outlines in this blog are useful for anyone hoping to deliver a high-quality event, be it for the AUA, for their institution, or for something else entirely.
Hopefully this provides you with some ideas of how you could develop this behaviour, through connecting with peers by joining our networks, to applying for one of our volunteer opportunities to gain experience outside of your day-to-day role.