AACRAO Conference 2022
– Oregon, USA | Waterfalls, donuts and inspirational talks
Loretta Gibson,
University of Bath
Laila Burton,
The Open University
It all began with our ideas for sharing something that we are really passionate about with others – for us, this was digital inclusion and hybrid working. Turning these ideas into brief proposals for conference sessions was pretty straight forward. Turning the proposals into engaging 45 minute talks for audiences of unfamiliar faces in an unfamiliar country was daunting – but so rewarding. To reflect on our experiences and know that others across the world were a) feeling the same way and b) interested in hearing our perspectives made the hard work we had put into our presentations pay off immeasurably.
Nestled below the spectacular douglas firs of Washington Park and overlooked by the majestic Mt St Helens and Mt Hood, the city of Portland is one of the most progressive and liberal in the US. The city celebrates its open-mindness and diversity, having legalised cannibas in the 70s, although with this comes its very particular issues. Beware… the Electric Lettuce is not a vegetarian café…. Hmmmm!
We were lucky enough to enjoy a short visit to the world famous Multnomah Falls and Columbia River, a tantalising sneak peek of Oregon's incredible wilderness. Definitely worth a visit for any intrepid campers – but watch out for the black bears! One of the more unexpected sights was a group of naked cyclists riding past as we strolled through central Portland eating our Voodoo donuts.
Our conference opened with a keynote by Dane Jensen that would put any Ted Talk to shame. CEO of leadership development and performance company Third Factor, Dane challenged us to think about how to harness the power of pressure by breaking it down into three parts: Pressure = importance x uncertainty x volume. By reflecting on what actually is important, focussing on what we can control rather than what we can't and throwing away the rule book on time management, pressure can become a valuable part of your tool kit.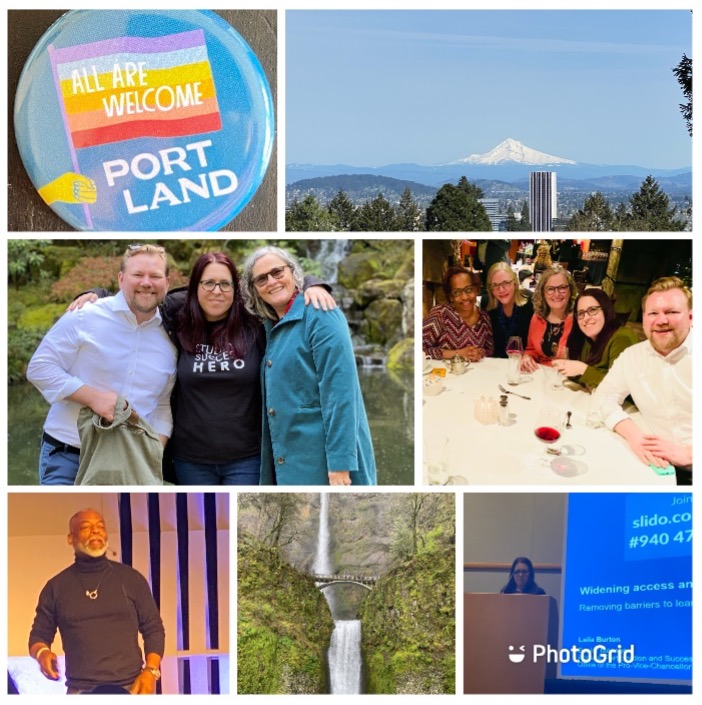 The Conference closed with a talk from LeVar Burton and after updating the audience on plans for Star Trek: The Next Generation Season 3 he talked about how important it is for students to feel like they belong. When LeVar was asked about how to create a sense of belonging, he talked emphatically about the need to reassure students' families and provide "support, support, support!"
New friends and new networks were the highlight of this incredible trip. Not only have we forged some great new AUA friendships but cross-pond collaborations are within our reach thanks to our wonderful new American friends – friendships forged over the quite spectacular local pinot noirs, stunning panoramic city views and cheerful banter at our International Dinner.
Find out more about ACCRAO here