Meet Nav Ahmed, the new Network Coordinator for the AUA Equality and Diversity network
---
We are delighted to share that Nav Ahmed – Principal Lecturer at Arden University, has been appointed as the Network Coordinator for our Equality and Diversity network! Find out more about Nav and his plans for the network below.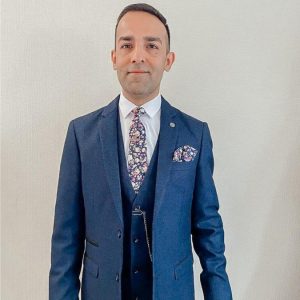 ---
About Nav Ahmed
I am an award-winning educator and in my current role as Principal Lecturer in the Institute of Foundation Studies at Arden University, I lead on Quality and Enhancement, developing and implementing strategies to deliver successful outcomes for students across our study centres in London, Birmingham, Manchester, Leeds and Berlin, as well as distance-learning provision.
With a background in Modern Languages, I studied French Studies with German at the University of Warwick before obtaining a PGCE from the University of Sheffield. I later completed postgraduate qualifications in Law, including a senior status LLB at the University of Birmingham followed by the Legal Practice Course (LPC).
Prior to moving into Higher Education, I enjoyed an extensive and highly successful career in Further Education, starting as an A-Level Law Lecturer at Bedford College before being appointed as Curriculum Leader of Access to Higher Education at Newcastle-under-Lyme College and then Curriculum Leader of vocational business programmes at Warwickshire College.
My HE journey began as a Lecturer on HND programmes at Birmingham Metropolitan College. In 2018, I joined University College Birmingham as a Senior Lecturer in Business, Marketing and Finance, managing the Chartered Management Degree Apprenticeship (CMDA) in Business Management, and being voted for by students as the winner of the Spotlight on Great Teaching Awards in 2020 and again in 2021, prior to joining Arden.
I became a member of the AUA earlier this year and am currently working towards gaining accredited membership. I am also an external examiner for business programmes at several universities, as well as a Certified Management and Business Educator (CMBE).
I am delighted to be given the opportunity to lead the Equality and Diversity Network as the new Co-ordinator as I regard this as an important role covering a subject which is close to my heart.
I am passionate about EDI and widening participation, aspiring to be a positive role model for my two young sons, as well as youngsters from all communities as somebody they can look up to and whose achievements they can emulate.
Coming from a humble background in an area of high deprivation in Birmingham, growing up I did not have many role models to look up to, particularly in education as none of my teachers looked like me. When I passed the 11 plus exam to gain entry to a grammar school, I felt 'imposter syndrome' and thought I did not belong in an affluent area where most of my peers benefitted from wealth and privilege. However, this motivated me to pursue a career in the teaching profession and I now live in the same area where I went to school and once thought I did not fit in.
As the first person in my family to go to a grammar school, attend university and become a teacher,
my aim is to inspire students and show them that they too can overcome barriers and achieve whatever they want to as long as they have the determination, focus and confidence to pursue their goals.
I am excited to lead and develop the network so that this provides real value to members through promoting awareness and understanding of equality, diversity and widening participation issues, sharing best practice in the sector and creating a forum to discuss shared areas of interest.
I can't wait to get started and I look forward to working with you!
We welcome all members who have expertise or interest in equality, diversity or widening participation.
As members of the network you can expect to gain:
• Increased knowledge and awareness of equality and diversity matters
• Involvement in events and activities
• Playing a part in promoting equality and diversity in the AUA
• Face-to-face networking with other members
---
---