AUA USA Study Tour | AUA Blog part two
Written by Samantha Jones (University of Liverpool) and Lucy Heming (Imperial College London).
Washington DC
 In May 2019, a group of 12 AUA members from different UK institutions visited the USA for the 2019 Study Tour.  Following a week in New York (which you can read about here), on Sunday 19th May the group travelled by Amtrak train from Penn Station NYC to Union Station in Washington DC.  Our train journey took us along the picturesque eastern coastline through the states of New Jersey, Pennsylvania, Delaware and Maryland before arriving in the US capital for week two of our tour.  We spent the week based in central DC visiting institutions and federal agencies within the city and also travelling out to institutions in the surrounding states of Maryland and Virginia.
For our first full day in Washington DC, we split into two groups of six to enable us to visit two institutions.
 Monday 20th May | American University
One group went to American University, a private research intensive institution in northwest DC. Our counterparts at American University were extremely welcoming and we met with a range of staff to cover a wide range of topics in our discussions.  Of particular note was the importance of the University's DC location; the institution was set up to promote public service and internationalism and this is clear in its subject spread, its use of its access to governmental and associated organisations nearby to provide experiential learning opportunities such as internships, and its promotion of study abroad, with about 70% of undergraduates studying abroad during the course of their degree.  Programmes at American University primarily are professionally-focussed, reflecting its core mission.
We discussed in detail their approach to admissions and offer-making, with a student's commitment to studying at American University in particular a factor in decision-making.  As part of their general education requirements, all first year undergraduates (and transfer students) take the American University Experience 1 course, which aims to help students from all backgrounds successfully transition into HE, and covers topics including study skills and goal setting, exploring personal identities and issues of privilege and bias.  In 2012 American University became a test optional institution when it comes to admissions; therefore, students do not need to have taken or provide their results in the standardised tests in order to be considered for entry but can instead have their decision based on their actual high school results; this resulted in an increase in applications from students of colour.  All students are provided with a meeting to discuss their financial arrangements and there is a range of financial support available for those who find it hard to meet the fees.
American University has been looking at its approach to teaching and recently appointed its first Professor of Higher Education Pedagogy.  A number of Faculty learning communities have formed, which bring together groups of interested individuals to look at particular topics.  These communities can apply for a small amount of funding and are for staff by staff.  Topics have included decolonising the curriculum.  Where staff seek to implement innovative teaching and learning methods, course evaluations can be suspended to reduce the risk of staff facing a negative impact on future applications for promotion.  The University is questioning the role of student evaluations of staff given the concerns about bias and has recently approved a portfolio approach so that staff applying for promotion can present a range of evidence to support their application, such as an annotated syllabus.
Interestingly, in 2018, American University became the first university in the US to be carbon neutral.  This has been done via a range of practical changes; for example, its electricity comes entirely from renewable sources.  Though there is an increasing focus on sustainability and reducing the environmental impact of UK institutions, there is not as yet a carbon neutral higher education institution in the UK.  American University's approach could be inspirational for our universities and colleges in the UK.
It was a great day and our only disappointment was not getting to meet Wonkcat, the University's resident cat who has its own social media accounts and won the Washingtonian's 2019 cutest cat competition.  A perfect reason for a return visit!
Monday 20th May | University of Maryland
The other group travelled about nine miles out of DC to the University of Maryland, College Park, a public research institution founded in 1856 and the
alma mater of Kermit the Frog creator Jim Henson, whose statue greeted us outside the Adele H Stamp Student Union when we arrived at the campus!  The University of Maryland has a student population of 41,000 students whose diversity represents that of the USA, with a high proportion of transfer students bringing in both racial and economic diversity.  Furthermore, the proximity of the University of Maryland to the many international embassies in Washington DC means that there are many international students who are living in the USA with their families, in addition to those on student visas.  We heard that this diversity is a key component of the strong identity running though the student body, along with values such as ambition, resilience, and a sense of connection and belonging.  The University of Maryland has worked hard to ensure fair access for students from under-represented groups, and we discussed initiatives to support first generation students with the transition from high school to university.  It was interesting to hear about the work being done around improving students' financial literacy, a growing area of interest in the USA, and outreach work to help parents to understand the cost of a university education and how this can be financed.  We discussed opportunities for study abroad, an area of particular interest as two of our home institutions (University of Liverpool and UCL) are exchange partners with the University of Maryland.  We heard about the work that has been done to help students to include a study abroad experience in their study plan and still graduate within four years, making it a more realistic and appealing option.  In our meetings with research colleagues, we discussed the value of innovative teaching and entrepreneurship, living learning communities, and meshing research and teaching through project-based learning.  We learned that like Rutgers University which we visited in NYC, the University of Maryland is a member of the Big 10 Athletics Conference and Academic Alliance, which is collectively the biggest producer of academic research in the USA.   
Tuesday 21st May | Northern Virginia Community College (NOVA)
The whole group travelled out of DC to the state of Virginia to visit Northern Virginia Community College, the second community college on our itinerary, and an opportunity to experience this aspect of American HE for those who didn't attend Borough of Manhattan Community College in NYC.  The mission of the Community College system is to increase access to higher education, offering non-competitive, open admissions to respond to the needs of the local community.  As a result of this, the student population is an extremely diverse mix including traditional age students, working parents, retirees and veterans from many countries, backgrounds and ethnicities.  The majority study part-time and so classes run from Monday morning through to Saturday evening, including late evening classes throughout the week to enable students to fit classes around their other commitments.  The average student age at NOVA is 28, although there is an upward trend in the number of younger students motivated by the lower cost of studying at a community college for the first two years then transferring to a traditional four year college to complete their degree studies.  We heard about the work being done at NOVA to analyse the needs of the local job market and develop the college's portfolio and intake in order to respond to these employment needs through cohorts of future graduates.  In particular, we visited the Medical Education Campus and went on a tour of the really impressive medical training facilities, learning about the different healthcare professions that are expected to be in demand in the region in coming years, and how students
graduating from the corresponding programmes at NOVA would contribute to addressing shortages in the healthcare workforce.  In addition to this, NOVA also operates a facility providing accessible dental care for the local community whilst also enabling students to gain experience of real life patient interaction.  It was clear to all of us that the community college model adds real value to local communities and opportunity to the widest possible range of students.
Wednesday 22nd May
A different focus for the day as we met with higher education associations to learn about the political context in which universities operate in the USA, and the work being done to address some of the specific issues currently being faced by the sector.
BOSE Public Affairs Group / International Education Council (IEC)
We met with Harrison M. Wadsworth III and Michael Nirenberg at the International Education Council office in central Washington DC.  IEC is a non-profit association which closely tracks the issues and policies affecting international education, specifically those dealing with student financial aid.  IEC communicates with and works with policy makers on issues regarding U.S. financial aid programs on behalf of its members and the international colleges and universities enrolling U.S. students.  Harrison gave us a really interesting and informative briefing on how the US political system operates, with a specific focus on how it interacts with higher education, and some of the issues that IEC are working on.  We talked about the changing perceptions of prospective international students in terms of how welcoming the USA is as an international study destination in the context of the current political administration, and drew parallels with the current UK climate.  Our discussions were useful preparation for the meetings that would follow, with NACUBO, ACE and the Office for Federal Student Aid.
National Association of College and University Business Officers (NACUBO)
We met with Liz Clark and the team at NACUBO, a membership organisation representing more than 1,900 colleges and universities across the country.  It specifically represents university chief business and financial officers through advocacy efforts, community service and professional development activities. The association's mission is to advance the economic viability, business practices and support for HEIs.  During the visit we explored a number of topics including changing attitudes in the USA on the value of higher education, trends in college and university endowments and public scrutiny around them, financial aid available to students and the increasing use of analytics in higher education institutions in the USA.  We also heard about how NACUBO is advising universities and colleges on potential new business models.                     
Sophia and Lucy from our group took part in a podcast recording for episode 35 of the NACUBO In Brief podcast series.  The episode is called 'Are University Administrative Challenges the Same in the UK?' and you can listen to it here.
Thursday 23rd May | Georgetown University
We visited Georgetown, the final university on our itinerary, and the nation's oldest Catholic and Jesuit university, located in the Georgetown area in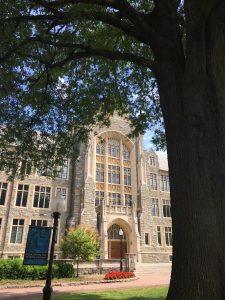 western Washington DC.  The university's 19,000 students are part of a vocal and active student body, passionate about social justice.  We heard that many students come to Georgetown specifically because of their interest in social justice, and there is strong focus on working with the local residents to make change in the community, including up to 50 student-led and student-focused organisations tackling social problems.  Jesuit values are core to the student experience at Georgetown and run throughout the curriculum with an ethos of educating the whole person and fostering inter-religious understanding.  This approach to higher education is unique and differentiates Georgetown from other institutions.  The university is located in a peaceful affluent neighbourhood community whose residents expect to be able to live alongside the university's students harmoniously and without late-night disruption!  Students are therefore required to live in on-campus accommodation for three years, and there are patrols in the neighbourhood in the evenings to mitigate problems.

During our final meeting of the day there was a dramatic thunderstorm raging around outside the room (that had several windows!) that we were in.  All our phones received tornado warnings which was novel and somewhat surprising to us, but our American colleagues were much more relaxed about it!  By the time we were leaving Georgetown, the sun was blazing again. 
Friday 24th May | American Council on Education (ACE)
ACE is the major coordinating body for the nation's colleges and universities, mobilising the HE community to shape effective public policy and foster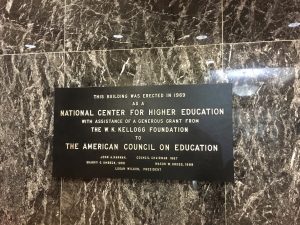 innovative, high-quality practice.  Representing HE institutions with one voice at the federal level, ACE represents over 1,700 college and university Presidents and the executives at related associations, and is the only major HE association to represent all types of U.S. accredited, degree-granting institutions.  We discussed the major challenges of rising tuition costs, student debt and addressing the misrepresentation of the value of higher education in the media.  We also heard about work being done to address demographics, diversity and equality of opportunity among the student population and at all levels of staff and faculty.  This was an interesting topic which came up at various meetings throughout the course of our trip and is of importance to the HE sector in both the USA and the UK.  We will therefore be looking at this area in detail as an emerging theme in our Study Tour report, to be published in November.
Office for Federal Student Aid
The Office for Federal Student Aid is an office of the U.S. Department of Education, dealing with approximately 42 million students and parents annually and handles a student loan portfolio of $125 billion.  The office helps students to understand the costs of studying at university, what financial aid is available to them including Federal grants, work-study and loans, and State financial aid, university scholarships and bursaries, along with support for military personnel and Veterans.  The office also provides advice and guidance on how to complete the Free Application for Federal Student Aid (FAFSA®) Form.  During our meeting we discussed the challenges regarding financial sustainability in the HE sector and the ever-increasing levels of student debt in the USA, which of course mirrors the situation in the UK.  We also heard about efforts to reach the current generation of 'digital native' students online and via mobile technology, with initiatives to streamline the FAFSA and the introduction of the My Student Aid mobile app having greatly enhanced students' ability to access aid. 
We ate lunch at The Monocle, a restaurant with a strong connection to the US Capitol and a long history of serving lunch to Members of Congress and congressional staff, so we looked out for politicians!  There are photos of every US president since JFK on the walls and the motto "An empty stomach is not a good political advisor." 
Visit to the US Capitol
We concluded our trip with an official tour of the US Capitol building which we accessed via the underground tunnels which are closed to the public.  It was
interesting to hear the history of the US Capitol, even if it was rather uncomfortable hearing that British troops set fire to the building during the War of 1812!  Visiting the Rotunda in particular was really impressive – a memorable way to end a fantastic trip.
Taking part in the AUA Study Tour to the USA has been an incredible experience which afforded us the opportunity to meet and network with colleagues from the institutions we visited and gain a unique insight into the workings of American Higher Education.  It was particularly valuable to have the opportunity to hear different perspectives on issues facing institutions in both countries, and to share insights into the UK system.  The experience also enabled us as Study Tour members to learn from each other and to build connections which will hopefully last well into the future.
The AUA USA Study Tour group were:
Samantha Jones | University of Liverpool
Sharon Barnes | London School of Economics and Political Science (LSE)
Sophia Harding | Staffordshire University – Tour Coordinator
Lucy Heming | Imperial College London
Helen Higgins | University College London (UCL)
Mike Keighley | Brunel University London
Clare McWilliams | University of Stirling
Faith Muimo | Leeds Beckett University
Stephanie Parr | Richmond, The American International University, London
Daniel Ramsay | University of Gloucestershire
Fiona Secondino | Coventry University
Amanda Stevens | Bournemouth University