AUA USA Study Tour | AUA Blog part one
During May a group of 12 AUA members from different institutions around the UK visited New York City and Washington DC for the 2019 Study Tour to research Higher Education in the USA. We visited a wide range of institutions, representing the intricate landscape of the US Higher Education sector, as well as other HE associations and a representative from the Department of Education in order to explore our key themes of Student Expectations, Experience and Success, Research and Teaching and Funding in HE. The aim was to compare and contrast the American system with our own UK system, to share knowledge and best practice and to make connections.  In addition to this, we saw some key sub-themes running through our discussions including Equality and Diversity and Health and Wellbeing. We were able to meet and network with lots of American colleagues and also create strong connections within our own group, comparing and contrasting our experiences at our home institutions in the UK too.
This blog has been written by Samantha Jones, Daniel Ramsay and Sharon Barnes, on behalf of the Study Tour group.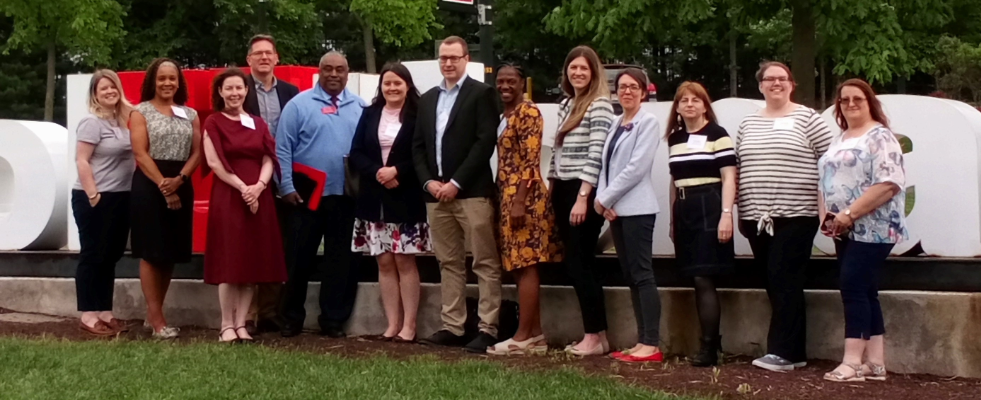 Monday 13 May | New York Academy of Art
The first stop on our Study Tour was New York Academy of Art, based in a five-story 40,000-square foot building constructed in 1861 situated in Tribeca in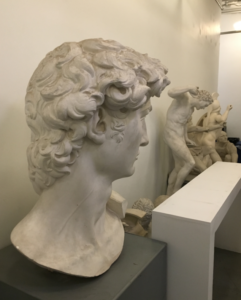 Manhattan.  Upon arrival we were greeted by Admissions Officer and former student Jessica, who gave us a tour of the Academy, showing us studios, facilities and students' work, whilst explaining what it's like to study and work there.  She had a genuine enthusiasm and passion for the work that they do, which left us all feeling inspired and considering a career change into the Arts!  The Academy is very different to any of our home institutions as it is a highly specialised, graduate only institution with 110 students, offering only the MA in Fine Art along with Continuing Studies courses.  With an average student age of 31, the student population tends to be older students who have gained work experience following their undergraduate studies and have returned to study to refine their skills in representational art in the concentrations of drawing, painting, sculpture, printmaking or anatomy.  During our meetings we discussed the defining characteristics of the Academy which included the location in the heart of the creative area of Tribeca, the expertise of faculty and critics and the strong student voice.
For day 2, the group split up into two groups of six to enable us to visit two separate institutions.
Tuesday 14 May | The New School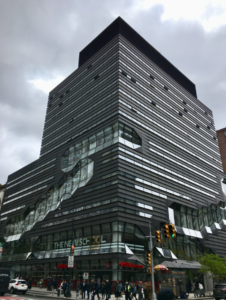 Group 1 visited The New School, an institution combining separate colleges including Parsons School of Design, Eugene Lang College of Liberal Arts, the College of Performing Arts, The New School for Social Research, the Schools of Public Engagement, and Parsons Paris.  The main campus in New York City is based in Greenwich Village in lower Manhattan, with buildings nestled in between city buildings and so the University really feels integrated into the heart of New York City.  As a consequence, the student experience is rooted in NYC and this immersion is what makes The New School distinctive, in terms of the vibrant atmosphere and the cultural, creative and intellectual opportunities available to students.  Talia, the student who guided our tour explained that once she had settled into the big city, this immersion into the creative heart of NYC was one of the key factors in her New School experience studying Fashion.  We learned about the strong social justice theme that runs through the student body, despite the disparate nature of the component college communities.  The New School's motto is '100 Years New' and this was evident in the innovative work they are doing to deliver high quality, engaging online learning opportunities and to keep improving student services to ensure that all subgroups of the student community have the best possible chance of success and are prepared for the world of work when they graduate.
Tuesday 14 May | Borough of Manhattan Community College
The other group visited Borough of Manhattan Community College, which was a complete contrast to the previous day's visit to the New York Academy of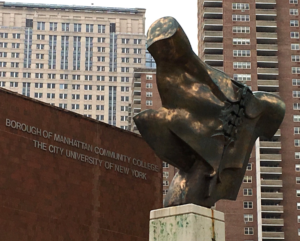 Art. It was a highlight of the tour and all who visited it agree that it had a truly inspiring staff who clearly care about improving the lives of their students. Many of the staff were either former students, had worked there for a number of years, or both. Everyone spoke with passion about their role in helping students achieve as much as they possibly could. It is located in the heart of downtown Manhattan with probably not as much accommodation as it would have liked, but the college is committed to its mission to provide opportunities to the community it serves despite these challenges.  A significant number of its students were either first generation students, came from under-represented groups or from deprived backgrounds. There was a clear ethos of leading by example and in encouraging students to try different extra-curricular activities to build up their soft skills while never losing sight of the academic purpose of the institution. At the risk of sounding trite, it really did remind us of the purpose of education.

Wednesday 15 May | Stony Brook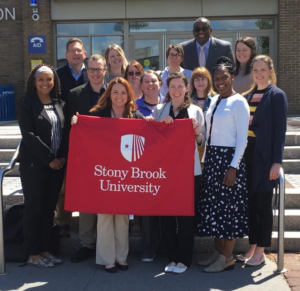 On day three, we headed out of the city to Long Island for our visit to Stony Brook University.  Stony Brook is a member of the State University of New York (SUNY) system, the largest public system in the USA with 64 institutions, and nearly 1.3 million students across credit-bearing, continuing education and community outreach programmes.  As our first experience of a typical American campus University, Stony Brook didn't disappoint.  We heard about a range of initiatives to support student success and equality and diversity.  Over a third of Stony Brook's undergraduate students are 'first generation' i.e. they come from families with limited or no college experience, and the University is working hard to support them with comprehensive programmes to ease the transition from High School to University, and to level the playing field between first generation students and the rest of the intake.  There is a strong focus on social mobility at Stony Brook, and the University's success in this
area can be attributed to their geographic location close to a high density of well-qualified students, their portfolio of STEM and Health focused academic programmes and the financial and other support available to students from non-traditional backgrounds. We ended the visit with a very polished and professional tour of the spacious Stony Brook campus.  Many of the buildings were huge and the facilities available to students were very impressive.  Of particular interest was the student theatre at the Staller Centre for the Arts, the library facilities and the wide range of food options!
For day 4, the group split into two again to enable us to visit two separate institutions. One team travelled uptown to Columbia and the other headed downtown to New York University.
Thursday 16 May | New York University (NYU)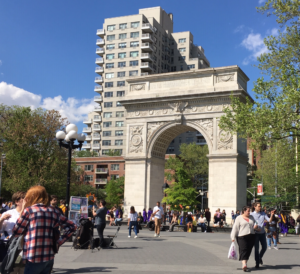 After three days of very different institutions the group was looking forward to what day four might bring.  NYU is a global University with its own campuses in Shanghai and Abu Dhabi, along with a further eleven global study centres.  However, it is firmly embedded in the heart of Manhattan.  There is no formal campus but every building around Washington Square is NYU which creates an informal hub of student life.  Our host for the day, Bobbe, made us feel welcome and at home (with her native British accent!).  We also met an inspiring student from Manchester, England who gave us a great tour and explained how it was possible for students from England to have the NYU experience.
Despite the size and global reputation, NYU relies on tuition fees to pay the bills.  Private US Universities utilise endowments to support revenue and budgets.  NYU has a 4 billion USD endowment.  This is considered small!  For comparison, NYU has circa 50,000 students.  Harvard has approximately 20,000 students but has a 38 billion USD endowment.  They are a non profit organisation so have to balance their admissions with the support (financial) and experience they insist on giving their students.  It takes a certain kind of person to thrive as a student at NYU, with the buzz of Manhattan all round.
There is no ethnic majority in the student body at NYU, meaning each year no ethnic group makes up more than 20% of the student numbers.  They are proud of this and see it as a vital part of the global education they give their students.
We all agreed that you can't help but walk away from NYU feeling energised.
Thursday 16 May | Columbia University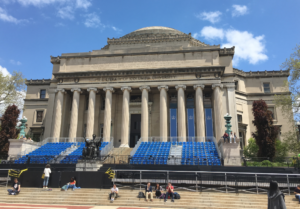 The other team visited Columbia, an Ivy League institution, as preparations were being made on campus for graduations which would be taking place a couple of days later.  We spotted some graduands excitedly posing for photos in their pale blue Columbia gowns.  We could feel the history as soon as we set foot on the Columbia campus with its Italian Renaissance style buildings, we later learned that the campus was the filming location for the opening of 1984 movie Ghostbusters!  The University was founded in 1754 as King's College by royal charter of King George II of England, it was reopened as Columbia in 1784.  It is the oldest institution of higher learning in the state of New York and the fifth oldest in the United States.  We learned about the history of the Ivy League and how it started out as an athletic conference of sports teams from the eight member universities, later developing into a marker of academic excellence and prestige.  Columbia is highly selective and for the most recent intake (the 'Class of 2022') their admission rate was 5.5%.  We talked about student experience and success and had an interesting discussion around 'the student as a consumer' and the expectations, particularly around responsiveness, of generation Z students who have grown up in the digital age.  It was interesting to hear about 'Go Ask Alice!' Columbia's health Q&A online resource, which provides readers all over the world with answers to their health and wellbeing questions.  We discussed student affairs, research, curriculum development, student financial services and ended the day learning about advancement and alumni relations.  A really interesting day and a completely different perspective on the US Higher Education landscape.
Friday 17 May | Rutgers University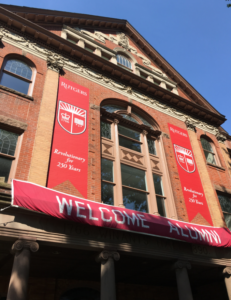 We travelled out of New York State to New Jersey to visit the gigantic Rutgers New Brunswick campus – it covers such a large area that the campus tour was by coach rather than on foot (!) and has a wide range of impressive facilities.  Rutgers has over 70,000 students, 50,000 of whom are based at New Brunswick, and one of the most ethnically diverse student populations in the USA.  Diversity of ethnic background, age and sexual orientation is a key part of everyday life at Rutgers, and they see it as one of their greatest strengths.  Rutgers also has a strong network of support for veterans and military services.  They promote the value of students immersing themselves in the unfamiliar in order to become global citizens.  We heard about the work being done at Rutgers to equip first generation students with skills and knowledge in the 'invisible curriculum' needed to navigate student life and to make a success of the college experience.  Rutgers places a huge focus on inclusion and access and we heard that this is a key component of the Rutgers student identity.  We discussed equality and diversity more generally and the importance of developing a pipeline of students from under-represented minorities progressing through into the academic community, in order to create diverse role models and achieve staff and faculty demographics that are more representative of the student body.  Rutgers is a member of the Big Ten Athletics Conference, and Rutgers University – New Brunswick is a member of the Big Ten Academic Alliance, a consortium of research-intensive universities.  It was interesting to hear about the Big Ten and to make comparisons with our own Russell Group.  Another great day and yet another different angle to our experiences of American HE.
Our first week has been a varied and insightful programme, offering us a range of different perspectives on the American HE system.  For the second week we travelled to Washington DC to visit universities, HE associations and a representative from the Department of Education to continue our research.  More on that next time …
The AUA USA Study Tour group were:
Samantha Jones | University of Liverpool
Sharon Barnes | London School of Economics and Political Science (LSE)
Sophia Harding | Staffordshire University – Tour Coordinator
Lucy Heming | Imperial College London
Helen Higgins | University College London (UCL)
Mike Keighley | Brunel University London
Clare McWilliams | University of Stirling
Faith Muimo | Leeds Beckett University
Stephanie Parr | Richmond, The American International University, London
Daniel Ramsay | University of Gloucestershire
Fiona Secondino | Coventry University
Amanda Stevens | Bournemouth University
Part two of the AUA USA Study Tour blog will be published soon.