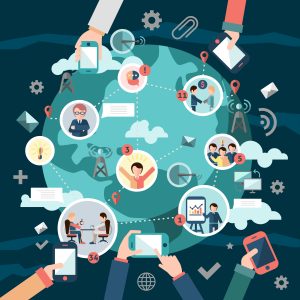 Virtual Study Tour Opportunity
David Law, Chair of the AUA's International Higher Education Network explains his proposal for a virtual study tour and how you can get involved.
AUA: International Higher Education Network
For the last ten weeks, many AUA colleagues will have been active participants in institutional discussion about the impact of the pandemic on the sector. Our usual patterns of work have been turned inside out. We have to discover new ways to achieve objectives and new means to deliver services. Equally, the Association has to deliver its activities with the creativity that our new operating environment requires.
AUA's Chair, Chris Ince, has urged us all to rise to the challenge. We need, he says, "to keep a longer-view perspective on the future of our profession".
The AUA has a network that engages with the internationalisation of HE through organising annual Study Tours.  One thing that we can be sure about is that, in 2020, there will not be a normal pattern of travel.  In the current crisis we cannot organise a Study Tour of the usual kind.  But the internationalisation of HE will not be halted by the crisis.  We should use the unusual circumstances to continue to develop our professional engagement.  If we cannot travel, then let's turn that to our benefit and get together on a Virtual Study Tour.
The Virtual Study Tour will look to review Sino-British partnership in Trans-National Education (TNE).  The focus will be on initiatives of significant size, normally those requiring regional or central approval by government.  As well as 'travelling' to one or two of the big projects (the Joint Venture campuses), I think we should look at medium-size projects (Joint Institutes – campus-on-campus models), and dual degree programmes.  As with all our Study Tours, the agenda will be decided once we have a group assembled.
I am hoping that some AUA members will join me on this virtual journey.
With a restricted focus, and with no actual travel involved, I am confident that we can manage a 'tour' like this. I think this will benefit both the AUA and the members who will do the research and write a report. AUA is in a unique position to be able to produce commentary and recommendations for good practice engagement by professional services in TNE.
We have enough participants for the tour to go ahead but we are still able to recruit a few more, hopefully including some who will have direct 'hands-on' experience of TNE.  I hope that some Mandarin speakers in our membership will show interest but I would expect meetings to be held using English.
Is this for me?
Applications are encouraged from staff working at all levels in order to maximise the opportunities for sharing the understanding and findings from group work. When selecting members of the tour, attention will be given to creating a diverse and representative group. It is essential that you are able to commit time to this activity. It is not essential that all members are in all meetings, but all participants are expected to show an active commitment to the work and its dissemination (including drafting sections of a report).
I'm interested! How do I apply?
Expressions of interest will be considered by two senior members of the AUA with relevant experience. Please include a short CV and a statement of interest, indicating:

How your previous experience makes you suitable for investigating an aspect of Sino-British TNE, together with ideas about possible themes/topics to be covered;
Your previous experience of report writing;
How you could help to ensure that our findings are disseminated;
What personal benefits you expect to gain from participation;
What support your institution (if you are employed) might offer (e.g. time to participate in online meetings);
Any language skills you possess.
There will be no interviews but please include contact details (email and phone).

Informal queries can be directed to David Law – davidlaw.academic@gmail.com

Find out more about previous study tours.
The formal deadline for expressions of interest is Sunday, 28 June. All expressions of interest and informal enquiries to be sent to David.