Taking Time Out: The Benefits of Being Outdoors
Development Monthly | #22 August 2023 | Resilience through Nature
Development Monthly Editorial Board
– Mark Hollingsworth (he/him), City, University of London
– Jonathan Dempsey (he/him), Policy Consultant, Buckinghamshire New University
– Dr Ella Popper, SFHEA (she/her), Association of University Administrators
– Amy Kenyon (she/her), Assistant Academic Registrar, University of Winchester
– Chiara Singh (she/her), Institute Development Associate, University of Bristol 
"Taking breaks, no matter the season, is always important as is refocussing on what matters.This summer, as you can see form my photos, I abseiled down Liverpool's Anglican Cathedral to raise money for Woodlands Hospice in memory of my dad who passed away last year.It's these times that when we focus away from work, away from our professional identities, that we can reconnect to what is important and even though we are part of an association of HE professionals that is only one part of who we are and arguably not that important in the grand scheme of things. It is the part of us the connects with family, friends and our values that is most important because that is what sets us on our path in the rest of the world and who we want to be, whether that be socially or professionally.
So, this summer I hope you are taking a break, recharging, and reconnecting to the parts most important to you.Also, side note, it helps if you have a dog!"
– Jonathan Dempsey (he/him), Policy Consultant| Buckinghamshire New University
---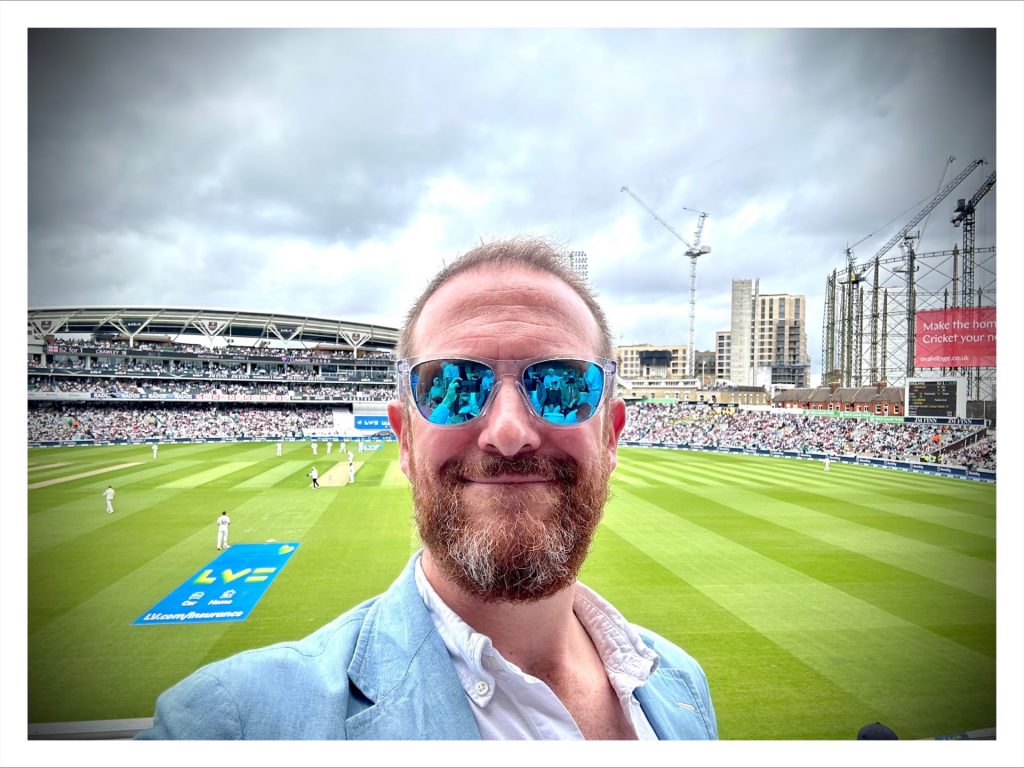 "We all know the benefits of getting outside and I cannot recommend enough taking the opportunity to leave your desk when possible during the working day. Many Universities now have wellbeing walks or similar and my own institution uses 'Go Jauntly,' a free app, chosen for being accessible and inclusive with detailed visual photos, text description and a full map with GPS making it easy for users to pick which format works best for them. I have used it to explore the local area and try to find a moment of calm in a busy day.

Having been asked for my outdoor 'postcard' from this particular summer though, here's a picture of me enjoying the outdoors at the Oval cricket ground at the end of July. I think having an interest outside work is vital to maintaining balance. In my case, I was lucky enough to go to five test matches this year and saw first-ball 4s, declarations, 'stumpings,' centuries, chases, rain, and switched-bails."
– Mark Hollingsworth (he/him), Deputy Chief Operating Officer | City, University of London
---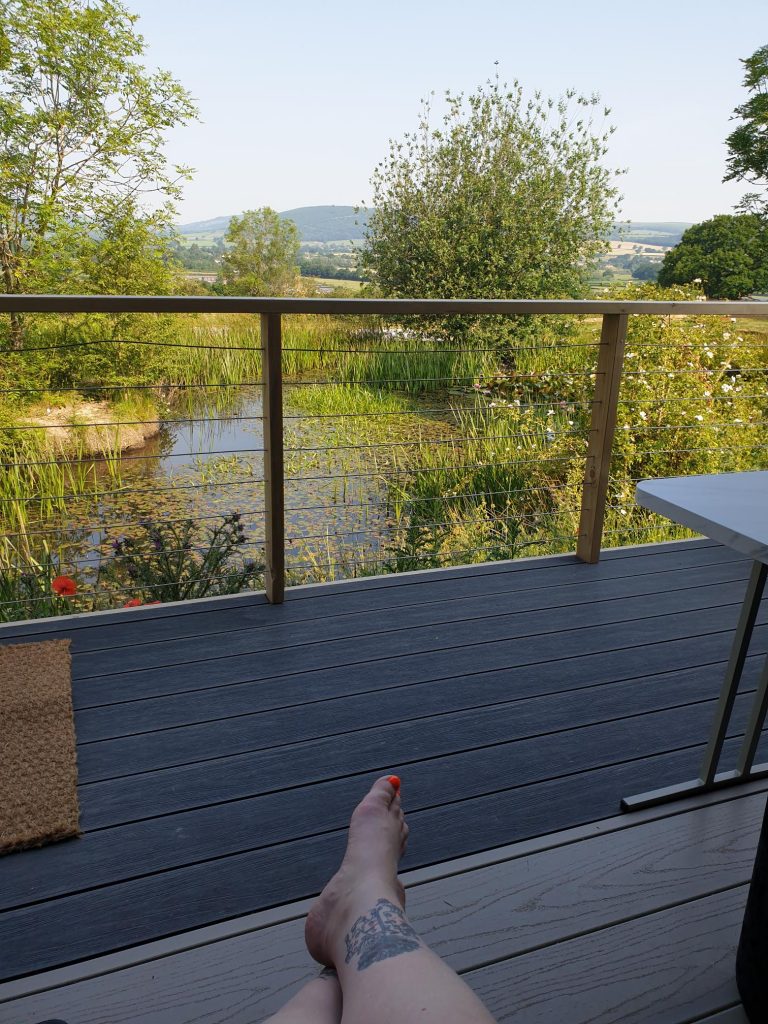 This is the view from our glamping pod on a recent trip to Wales. Being outdoors, especially where I can see and hear wildlife is extremely important to me. It brings a sense of calm in to a mind which constantly thinks (at 3am when I really don't need it!). Enjoying the outdoors is my chance to rest and recharge my brain cells.
– Dr Ella Popper, SFHEA
(she/her), Association of University Administrators
---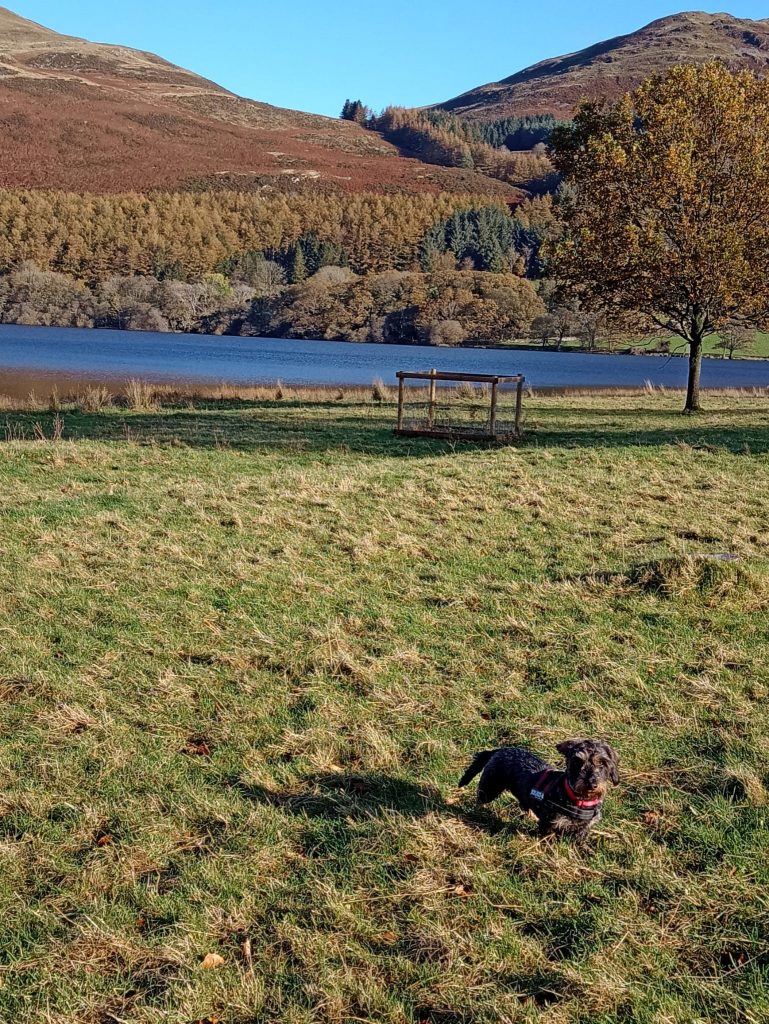 This snap shows two of my favourite things – the Lake District and my dog, Basil! My family and I visit the Lakes every year or so, and it is without doubt one of my favourite places to be. The scenery, the peace and quiet, and (more importantly) the lack of signal make this an especially relaxing place to be. I tend to visit in October so the weather is usually rubbish but it's the perfect time to unwind and re-energise after a long Summer!
As well as plenty of breathtaking views, there's also a great mix of shopping and leisure activities just a stone's throw away. One thing I love to do is visit the local book shops and buy some reading material for the holiday as this is often the only time I get to actually get through a whole novel! Of course, the best part of being in the Lakes is the quality time I get to spend with my extended family. We've visited the Lakes so many times together that we have the cooking rota and the daily itinerary down to a fine art.
– Amy Kenyon (she/her), Assistant Academic Registrar, University of Winchester.
---
"Spending time in nature helps me feel grounded, recalibrated, and compels me to slow down allowing a greater awareness of external stimuli and internal thought. The increased self-reflection and perception that come from really tuning into your senses, taking in the sights and sounds that nature has to offer, often leads to sudden moments of clarity where things seem to click into place (AKA Eureka moments). It is this connection to ourselves and the environment around us that can bring inspiration, creativity, and a sense of belonging that nurtures resilience…similar to a sense of belonging and connection that being part of a network of HE Professionals may bring. Just as the original world wide web of fungi connects the roots of plants and trees symbiotically for miles underground, we connect with one another sharing our areas of expertise, supporting one another to thrive. I believe there is much we can learn from biomimicry and natures design if we are open to it and must protect the biodiversity that exists."
– Chiara Singh (she/her), Institute Development Associate, University of Bristol
---
Join the discussion @The_AUA #Develop or scroll to the bottom for comments
Also in this issue of Development Monthly