Professional Development Reviews 2021-22. So how did we all do?
Development Monthly | #14 November 2022 | Professional Development Reviews 2021-22. So how did we all do?
Heidi Flanagan
(she/her)
Head of Student Insight and Enhancement
University of Winchester
Professional Development Reviews 2021-22. So how did we all do?
As Black History Month 2022 draws to a close, Heidi Flanagan considers professional development goals for the coming year.
Heidi is Head of Student Insight and Enhancement at the University of Winchester, and a Trustee of the AUA.
Summertime…
The season for reflecting on professional development. Appreciating contributors to success. Confirming objectives are achieved. Congratulating reports and giving thanks for efforts. Developing new targets, and identifying professional development enablers.
So, what are our professional development goals for 2022-23?
I am a Black woman who has worked in higher education for 10 years. I offer these insights to fellow professional services colleagues considering their career path. How does the door to the next Level open?
Apply for a job
Apply for a job with the intent to get interview practice and feedback from the panel. You are looking for structured feedback aligned to the essential and desirable criteria. You may need to be specific in this request. If the higher education provider 'particularly welcomes applications from Black, Asian and minority ethnic backgrounds for this post as they are under-represented in jobs at this level', then they may be willing/resourced to meet requests for structured feedback.
Be prepared for 'brutal'. Feedback from job interviews will vary in quality. Once I was told that the reason that my application was unsuccessful was that I lack gravitas. I did not recall seeing 'bucket of gravitas' on the job description?! As a management coach summarised for me when I recounted this, I had a lucky escape as I would not have thrived working with them… 'too male, too pale, too stale, too Yale'.
Lesson learned: Be true to yourself. Do not compromise your personality and leadership style to flatter the image across the table. Work with people who value the difference you bring. Approach interviews with self-confidence and the right team for you will emerge.
If you have yet to arrange a 360 appraisal as part of your career development, I whole-heartedly recommend them. Ask your AUA Networks or HR teams if they can assist, so that participants are assured of anonymity and can be honest.
Be prepared for 'brutal'. Feedback from 360s will vary, depending on the level and direction of colleagues' interactions with you (upwards, downwards, sideways). Once, I received an observation that I comment on too many agenda items in meetings. Really? I thought that I had an obligation to engage with ideas presented in papers, given a diverse-poor context. With wisdom courtesy of Taylor Swift, when 360 feedback does not make good sense, just 'shake it off'.
Lesson learned: Be true to yourself. You cannot influence how colleagues see you. Do not compromise your input to conversation and debate. 360 is a useful tool to aid your understanding of the environment, to refine strategic navigation skills.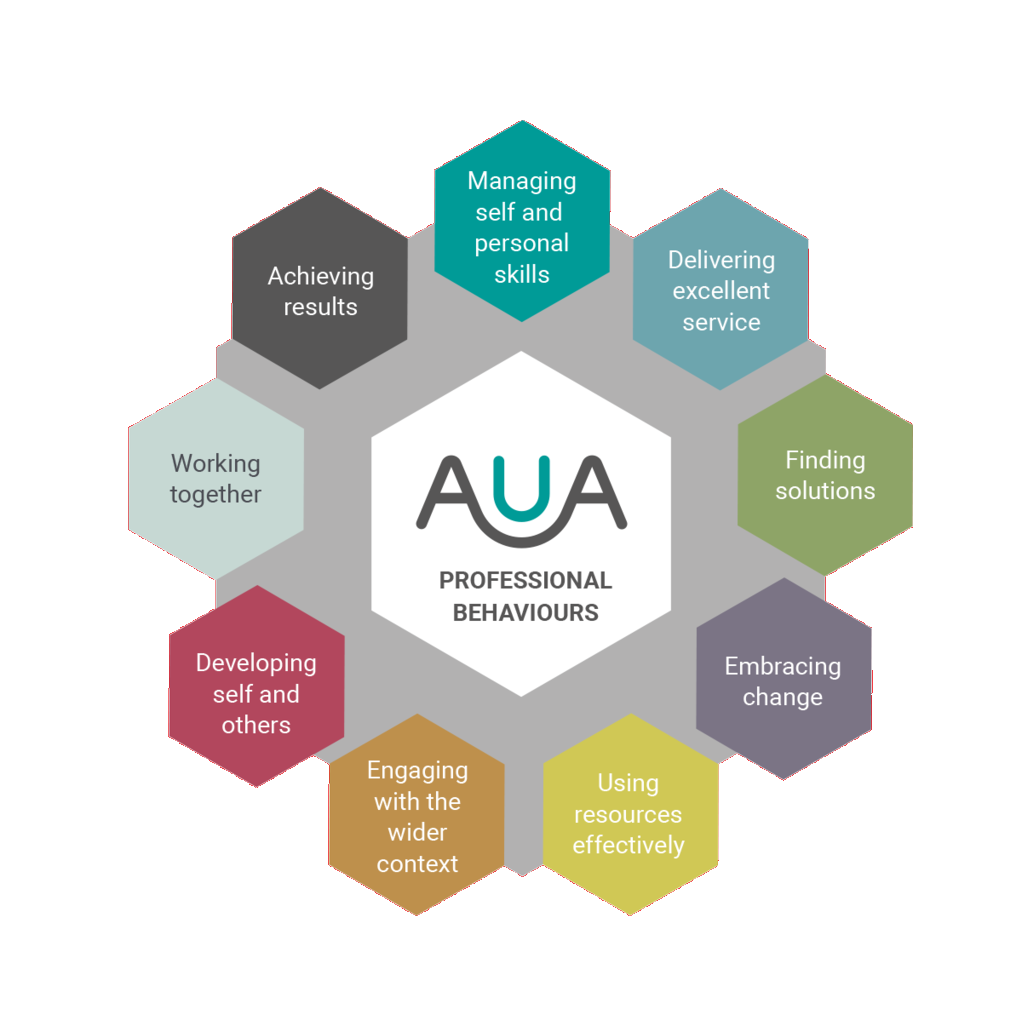 Apply the AUA Professional Behaviours Framework to your practice
The AUA Professional Behaviour Framework highlights behaviour patterns that distinguish effective performance in HE professional services roles. Have you utilised the framework yet to structure your Professional Development Reviews? Last year, I focused on,
Engaging with the wider context
Enhancing your contribution to the organisation through an understanding of the bigger picture and showing commitment to organisational values
Stepping out of my comfort-zone, I presented at a conference for the first time this year. My thought-piece is the problematic disaggregation of HESA-reportable equalities characteristics across the devolved nations. My ability to engage with, and lead, conversations on the future impact of regulatory decision-making is a quality that I have developed through engagement with the Framework. To the colleagues who sat in the audience, encouraging and supporting: thank you. You know who you are.
More information on the AUA Professional Behaviours Framework is on our website (log in to access the detail).
We all know that, currently, BAME professionals are under-represented at senior level in higher education. Since 2020, when the Black Lives Matter voice seemed louder than today, allies whom I have met along the way seem now united by exhaustion, unfortunately.
And so finally, I share with you, as allies, my 'Wellbeing Toolkit'. May it help keep you strong, fearless, and nourished for your professional development year ahead.
---
Join the discussion @The_AUA #Develop or scroll to the bottom for comments
Also in this issue of Development Monthly
Charlie Tennant
Top five tips | Charlie Tennant (he/him)Head of Business Operations, University of Greenwich Development Monthly | #14 …