Member profile: Roscoe Hastings
Member Profile – Roscoe Hastings
I became the Business Manager to the Deputy Vice-Chancellor for (Education) and the Deputy Vice-Chancellor (Innovation and External Engagement) in May 2015. In my role I am responsible for providing executive support and business management to the DVCs across the entire range of issues within their portfolios. In particular this is achieved through drafting reports, policy research and horizon scanning and briefings. Working closely with the relevant Professional Services teams, I undertake work and projects relating to the DVCs' work and assists the DVCs' in the development and implementation of the University's core strategies, including the University's Education Strategy (2014-2020) and the University's Regional Strategy.
Prior to this, I worked in the Student Engagement and Experience Department at Kingston University, London; and was the Research Officer to the Registrar and Secretary of the University of Sheffield, from 2012-2014. It was at the University of Sheffield where I was also a student achieving my BSc (Hons) in Psychology as well as being awarded the Chancellor's Medal for services to the University.
A career in university administration was not something that I had envisioned while I was a student; and I was extremely fortunate to have a very good relationship with a number of professional services staff. As a student I was actively involved in the Students' Union and took on part-time work in the Student Services department. However once I was in post my eyes were opened to the opportunities within the university and the ability to shape and develop a career.
I was also extremely lucky that my very first Line Manager was supportive of the AUA and encouraged not only my becoming a member, but also attendance at events and conferences. I attended my first conference in 2014 and wrote a piece for Newslink on the insights of a conference newcomer. Since then I have been luck to attend in 2015 and 2016 and delivered workshops at both events in collaboration with colleagues from other universities.
The AUA has also allowed me to expand my horizons and develop new skills. Following my workshop at the AUA Conference in 2015, I wrote a piece for the Associations journal – Perspectives­ – allowing me to develop skills in academic writing and collaboration. At the recent conference I was lucky to be selected as one of the members for the Trustee selection panel; meaning I could make a direct contribution to the governance of the Association.
In short, the AUA has been an important part of my professional development, supporting me to develop new skills, contacts and networks and opening new horizons in the world of higher education.
---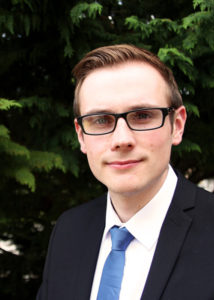 Roscoe Hastings MAUA
Business Manager to the Deputy Vice-Chancellor (Education) and the Deputy Vice-Chancellor (Innovation and External Engagement), University of Exeter