Meet Vianna Renaud MAUA, Placement Development Advisor | Bournemouth University | Career Stories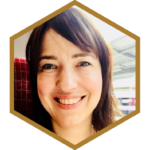 Vianna Renaud
Placement Development Advisor and Postgraduate Researcher, Centre for Excellence in Media Practice (CEMP)
Faculty of Media and Communication
Bournemouth University
---
How long have you worked in HE and what was your first position?
I have worked in HE for around 17 years. Originally from Northern California, I was lucky to have won scholarships to have studied abroad in France, Germany and the UK before completing my undergraduate degree. Being an international student completely changed my life and as a result became a cause that I felt strongly about.
Upon graduating from the California State University, Chico, I first started work in the sector with ACCENT International Consortium for Academic Programmes Abroad, a service provider in London supporting American university study abroad programs to the UK. In 2005 I moved to Belfast and worked with the Widening Participation Unit at Queen's University Belfast. Following roles included serving as a Counselling Associate at the Universities of Southampton and Portsmouth before finding myself at Bournemouth University. I am currently a Placement Development Advisor for the Faculty of Media and Communication, supporting 120 students out on placement for their industry experience throughout the UK and overseas. I am also undertaking my doctoral studies focusing on peer to peer employability coaching and mentoring at BU within the Centre of Excellence in Media Practice.
You're one of our newest members! What made you choose the AUA?
I have always been interested in AUA for their clear commitment to the personal and professional development of those working in HE. I saw the opportunity to participate in the AUA Study Trip to Sweden and was amazed to not only have been chosen, but to have also won a travel bursary. It was one of the most memorable experiences in my career so far and as a result, I look forward to a lasting relationship with the AUA.
I would strongly encourage all members to look into taking part of AUA activities. Regarding the next AUA study trip, it will be in the US so definitely investigate and stay up to date with the website!
What three words best describe the AUA?
I think it is impossible to come up with just 3 as the AUA does such great work for its members and the sector. I would go with, Relevant, Inclusive, and Inspirational!
What advice do you have for prospective AUA members?
AUA is an organisation to join if you are serious about making the most of your role and providing the best service to both students and colleagues in the HE sector. By exploring, sharing and implementing best practice that one can learn from the AUA, you are taking your role to the next level which is something I see necessary given the current time of continual change and challenge.
What do you value most about working in HE?
What I value most about my role in HE is the chance and opportunity to help empower students empower themselves in the quest of reaching their full potential, through all of the ups and downs of university life.
What can't you start your day without?
Music; whether it is Depeche Mode, Debussy or the Dixie Chicks, I need my music to keep going and the creative juices flowing.
What work accomplishment are you the proudest of?
I am the happiest when I can see the development of my students whilst on placement. The impact can be so great and to know that you had been a part of the process by supporting and encouraging them is always super special. I also place an enormous value on staying current with sector trends and therefore are very proud to also be serving the wider sector as a Trustee for ASET, the UK Work Based and Placement Learning Association.
What is your personal philosophy?
Without sounding like the old cliché, I really believe in 'Nothing ventured, nothing gained.' One cannot let fear get in the way of reaching for the stars so what I tend to do is to take a shot of invisible tequila when need be, say a quick prayer and just do it!