Meet Michael Monaghan | Career Stories
How long have you worked in HE and what was your first position?
I have worked in HE for a glorious eleven years, having started as a placement student in 2008 in a marketing and communication assistant role in LJMU's Student Recruitment and Widening Access Team. As a Schools and Colleges Liaison Assistant, as well as typical administration duties, I organised outreach events and delivered HE and study-skills related workshops to schools and colleagues in the North West and Northern Ireland, with the aim of raising HE aspirations of young people. This is the role where I discovered my passion for helping others with their development and working in the HE sector. I love how higher education has the power to transform people's lives, as it has done mine.
What made you choose the AUA?
Having previously worked in a student development role, where I proactively took on some academic teaching-related responsibilities, I had academic development support facilitated through LJMU with the Higher Education Academy (HEA), gaining their Fellowship. I thought this support and partnership for academic staff was great and wished there was something like this for professional services staff. When I learnt of the AUA after joining LJMU staff development team (Leadership and Development Foundation), and that they were the main professional association for supporting staff who work in HE administration or management, I joined immediately and requested to be an AUA Advocate. I thought I could definitely contribute to raising awareness for our professional services staff (PSS) of what opportunities the AUA could offer them in terms of CPD and supporting their HE professional journey, in the same way the HEA is used for our academic staff. I have been working hard ever since to engage and re-engage our PSS staff in the CPD opportunities the AUA and their numerous resources present, helping them to feel more valued professionally within our institution.
What three words best describe the AUA?
Opportunity, partnership and community
What advice do you have for prospective AUA members?
Look over the AUA website, see if their purpose and values resonate with you; look at the AUA CPD Framework and read about how it can be used to enhance your professional development; review some of the AUA publications, Perspectives: Policy and Practice in Higher Education and Good practice Guides; read about their latest news and AUA member's career stories. Then most importantly, go speak to your local AUA advocate about the AUA. and the opportunities they provide and facilitate. Learning about how AUA opportunities and resources are used within your institution will give you great insight into how you can find value from joining. Then who knows, perhaps like me, you'll have a lot of ideas about how to make your university's AUA CPD offering more valuable for your colleagues and decide you want to make a difference by getting more involved
What do you value most about working in HE?
To me, HE is the greatest platform we have to achieve social mobility and this is what I value most about working in it. At a macro-level, I get great satisfaction knowing we are all working towards to same common purpose, in the interests of our students and society through developing and preparing the citizens of tomorrow. At an individual level, I know first-hand how rewarding a proactive and hardworking attitude can be in Higher Education for its students and staff. There are ample supported opportunities for staff to enhance their knowledge, work in different areas and gain greater experience for those who want to develop and progress; it motivates me every day coming into work to contribute to this.
If you could do another HE job for a day, what would it be?
Having already worked in nine different roles in HE, having had five permanent positions, which all involved cross-departmental responsibilities, I can honestly say, I've found my calling in HE. However, I loved the overtime I used to do working as a Library Assistant during the busy Easter periods, where I would walk the library floors helping students with their library/study related enquiries. Students in libraries around exam and coursework deadline periods, such as Easter, can become naturally very stressed, unconfident and unhappy due to the high pressure of the situation. Taking an interest in how the students were doing and giving a few positive and encouraging words during our interactions, where I thought the student would benefit from that, seemed to make a real positive difference to their wellbeing during these very challenging times (which I can still relate to). This was the approach of all our library staff too because we used to talk about it during lunchtime. So if you asked what other job I'd like to do in HE for day, it would be to be one of our sector's unsung HE heroes. Like the receptionist who asks the student how their studies are going. Like the staff member who puts on their brightest smile as they serve the coffee in the café, relentlessly telling students to have a nice day each time with the same vigour and enthusiasm. Like the cleaner who sees a student drop all their books and papers and immediately rushes over to help. And, like the library staff who work hard help to create a positive working environment for the students who are studying hard through caring about their wellbeing.
What do you think is the most overused phrase in HE?
"Students are customers". I find this phrase dangerous as it suggests a viewpoint that does nothing to help HE manage students' expectations of their role in their own education. I prefer the less passive 'Students are learning partners'.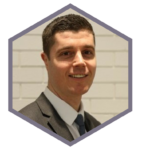 Michael Monaghan FAUA
Leadership and Development Adviser
Liverpool John Moores University
Michael is the winner of the 2019 AUA Member of the Year Award, which was announced last night at the Annual Conference Gala Dinner.
---
What does professionalism mean to you?
To me, professionalism means conducting yourself in a respectable, credible and competent way. I think the nine AUA Professional Behaviours encapsulates professionalism perfectly for our sector and is one of the mains reasons why the AUA CPD Framework resonates with me so well. The nine Professional Behaviours covers all areas a HE staff member can expect to work in and categorises descriptors of each area into Self, Others and Organisation. Professionalism is multifaceted and is about understanding how to act in all circumstances and conditions and preparing yourself for these. It is the ability to be flexible with your approach to different people, tasks and situations and adapting your approach as needed to achieve the best outcome possible. Sometimes it will be about emotional intelligence, sometimes about knowledge and other times about resilience. The most useful resources for me in terms of developing my professionalism was having positive professional role models in the workplace. These gave me a sense of pragmatic autonomy over choosing what behaviours I wanted to mirror for certain situations, and what I did not, and most importantly it enhanced my understanding of how professionalism was contextualised through my institution's culture.
What can't you start your day without?
Breakfast. It is usually a homemade water-based smoothie with banana, blueberries, strawberries, Scottish oats, spinach and chai seeds, but on the days where I'm struggling to find a pair of matching socks for my three year old to wear for nursery, I may just have a banana and a pint of water.
What work accomplishment are you the proudest of?
Definitely my contribution to LJMU achieving the AUA Mark of Excellence. My contribution was an ongoing number of diverse and innovative activities I had worked extremely hard over a few years to implement successfully at the University (in my capacity as a Leadership and Development Adviser and AUA Advocate). Such as the LJMU AUA CPD programme, monthly LJMU AUA Network Forums, supporting over 50 staff gaining Accreditation with the AUA, creating three resources to support using the AUA CPD Framework (AUA Building Behaviours, AUA Behaviour Insights and AUA Professional Behaviours Spinning Wheel), and the LJMU AUA CPD Award competitions. These were all given commendation in our Mark of Excellence assessment, which I was extremely proud of.
What is your personal philosophy?
Be brave, don't waste time worrying about anything, work hard, do things that challenge and scare you, find the funny side, enjoy the little things, and be proactive and relentless in the pursuit of your goals, your passions and happiness. Family is everything. Lime green is the best colour.
Where is your favourite place to be?
Where ever my wife and two beautiful children are. For a little bit of family time I would happily forget the world in an instant. Family time is extremely precious and I realised this at a young age.
What's the weirdest job you've ever had?
Not sure. As an 'Alley Cat' for the Megabowl I used to run the children's parties on a Sunday and make them all terribly amazing balloon animals (mostly dogs and snakes). The food duels I had as a dishwasher during my GCSE's were pretty weird. At 7pm during a shift myself and the other dishwasher would challenge each other to a food duel out the back of the restaurant: each saying 'I demand satisfaction Mr Main' then taking ten paces away from the other, turning and throwing the leftover food at each other; loser would do the bin juice mopping that night. Before I was the Student Union Barman on Hollyoaks, I did a lot of random extra work and was once a leery untoward man making rude gestures towards the McQueen girls while they danced as school girls for Mercedes Hen Night (there is video evidence of this on YouTube still too).
What would you most like to tell yourself at age 13?
I know it's just been announced that Buffy the Vampire Slayer will be ending after series 7, but stop thinking about it, I promise you there will be lots and lots of other TV shows to watch which you'll love just as much. Also, you break you ankle again in the summer before you turn 15 which ends your footballing aspirations; concentrate on rugby, MMA, running or long jump instead. And great work on choosing alternative bright colours for the elastic bands on your brace…the lime green and teal blue you chose will actually be the colour scheme for the first set of couch cushions you buy in your first home.