Meet Jim Irving, Academic Registrar at York St. John University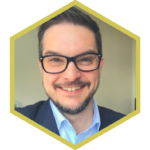 Jim Irving
Academic Registrar
York St. John University
---
I'm responsible for…
The leadership and ongoing improvement of the administrative services that support the student learning journey. At York St John University these services are provided by two teams: Registry and the School Administration Unit. Registry is responsible for: supporting the development of new programmes and modules; the oversight and governance of academic quality and standards; management of the student record from enrolment to graduation; coordination of key events including enrolment, examinations, and graduation; support for the Board of Examiners and the production of transcripts and certificates; management of the University's external student statutory data returns; timetabling; and the management and development of our student records system. The School Administration Unit provides a wide range of services, information, advice and guidance relating to students in relation to their studies, and to staff to support the delivery of our academic programmes.
My typical day…
Is atypical. About ten years ago I had a line manager who said "the only constant in your career will be change; you need to learn to be a change manager". She wasn't wrong. Whilst most days consist of more emails than I'd like, no two days are ever the same. They can vary wildly, and might include interpreting or writing policy and regulation, working closely with our student representatives to review and improve our services, visiting our collaborative partners in the UK or overseas, or leading a graduation procession down the nave of York Minster (walking slowly in a straight line can be surprisingly daunting).
My first job in HE was…
As a Course Administrator at the University of Portsmouth. After I completed my MA, I returned to the University of Portsmouth as the Course Administrator for the programme I'd studied for my undergraduate degree. I'd been fortunate enough to secure funding for my MA, but a condition of the funding was that I couldn't take paid employment. A year spent in archives brought a crashing realisation that I didn't want to carry on studying. In the absence of a clear plan, but knowing that I loved higher education, I went back to what I knew. At that point I didn't know that higher education administration could be a career, but I soon learnt quite how much effort went in to making the student experience seem effortless.
The AUA helped me…
Realise that working in student administration could be a 'proper' career. Meeting colleagues from across the UK who were progressing through roles in HE inspired me to progress my own career. Listening to and sharing experiences about university administration, and hearing people's stories of their career progression helped me to crystallise my own ambition. Having started in course administration, I then dipped a toe into the ever so popular world of timetabling, where I progressed through a series of roles at two institutions (where possible getting involved in activities outside my immediate area of responsibility); from there I took a sideways move to broaden my experience as a faculty registrar, from where I progressed to another institution to become Director of Registry, then Deputy Academic Registrar and Director of Student Services, and then on to my current role.
If I didn't work in HE I'd be working as…
An architect. Or at least I hope I would. At school I had many great teachers, but I had one who told me that I'd never make the grade to become an architect. I listened to that advice and didn't ever try. I don't have regrets, and indeed I might not have succeeded, but I have learnt to listen to a wide range of viewpoints, and also to trust my own instinct when making a decision.
The best thing about working in HE is…
Feeling that we're making a difference. In a world of tuition fees, consumer protection law, and preparing for life after Brexit, it's sometimes easy to lose sight of higher education as a common good. Our universities are one of our greatest strengths, and the difference that we make to individuals and to society should not be underestimated. I find it incredibly rewarding to be part of such a diverse and dynamic sector. That, and the fact that I get to work with great people.
What surprised me about a career in HE is…
That I've had a career in HE. I've feel that I've been fortunate in the opportunities that I've had to get involved in projects and to continue developing my professional knowledge, skills and practices, and in the chances I've had to work with fantastic colleagues across the sector. I've worked in post-92 universities, Russell Group universities, and, most recently, a cathedrals group university; my experience has been that the ambition, challenges, and opportunities have been the same regardless of the age, size, or perceived status of the university. I'm looking forward to continuing to develop, and to working with colleagues to find new ways of working to adapt to our rapidly changing world.