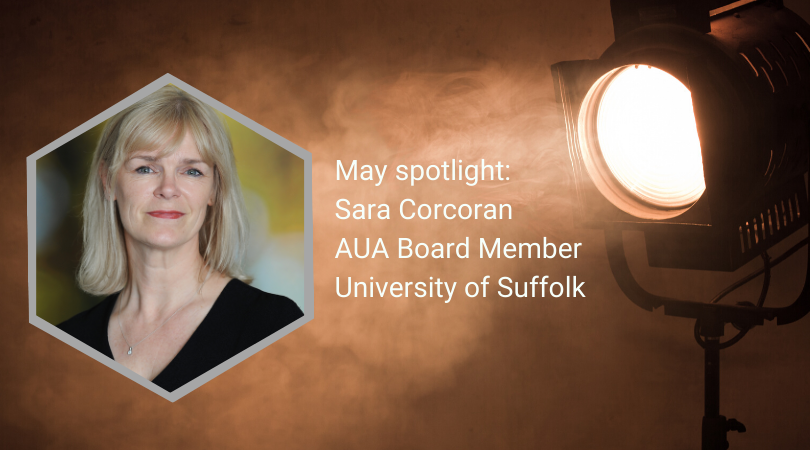 The May member spotlight is on Sara Corcoran, Leadership Coach at the University of Suffolk. Sara Corcoran is one of our current Board of Trustees members.
Why do you do it?
My career has spanned both the health and higher education sectors. In both, the sharing and support that colleagues offer one another, both within and across institutions, has been a stand out feature of the working experience. The networking and sharing of learning and experience has helped me enormously in my career and has provided me with some of my longest and strongest friendships.
Contributing to an organisation such as the AUA helps me feel like I'm giving something back and helping to make sure those benefits are there for earlier in their careers. In addition, I feel really strongly about the professionalism demonstrated by so may professional services colleagues – helping to support their continued professional development and achieve recognition for their contribution (individually and collectively) feels really important.
What has been the best bit so far?
The Future Higher Education Professional project which we're working on at the moment is really exciting, and will heavily shape the AUA's strategy for the next period. Thinking about how the world of work is changing, no doubt accelerated by how we've had to respond to the pandemic, is really interesting: thinking about how institutions will deliver their services; how roles and skills will shift; how people will build and navigate careers; and how a professional organisation can support them.
Would you recommend the role?
Absolutely! At whatever level, get involved, make a difference! You'll develop some new skills and learn about new areas of the institution and you'll meet some great people, most of whom are great fun to work with!