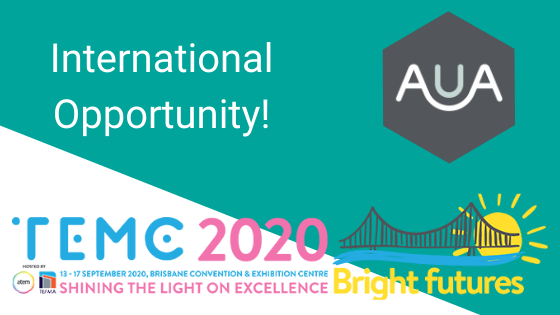 International opportunity: represent the AUA at TEMC
13 to 17 September 2020 | Brisbane Convention and Exhibition Centre, Australia
Would you like to take on a new challenge and learn about HE from an international perspective, whilst also developing yourself professionally? Apply to represent the AUA at TEMC 2020!
The AUA is thrilled to announce that we are once again offering the fantastic opportunity for one of our members to represent us at the Tertiary Education Management Conference, this year held in Brisbane.
About the event
The Tertiary Education Management Conference is organised in partnership with the Association for Tertiary Education Management (ATEM) and the Tertiary Education Facilities Management Association (TEFMA) and attracts around 800 professional managers from higher education and TAFE institutes, Polytechnics, Wananga, government departments, private providers and similar organisations across Australia and New Zealand.
The opportunity
In partnership with ATEM, the AUA is offering one delegate the opportunity to represent us at TEMC 2020 in Brisbane. We will prioritise applicants who specify that they are willing to deliver a working session. The successful applicant will receive a bursary of £1000 towards travel and accommodation costs as well as free entrance to the conference.
Conference theme
This year's theme is 'Bright Futures – Shining the Light on Excellence' and we will be prioritising applicants who indicate they are willing to deliver a working session which relates to this topic. To give more guidance, the overarching conference theme has been broken down into six sub-sections:
High Performance Culture
Beyond Sustainability
Enriching student experience
Blending the physical and the digital
Uplifting campus vibe
Inclusion and respect
More information about each of these sub-themes can be found here.
Want to know more?
You can read our member Andrew Unwin's account of his time representing the AUA at last year's TEMC in Adelaide here.
How can I apply?
To apply, please complete the online form below. The form will ask you to respond to the following:
Why you would like to attend
How the experience will enhance your professional development
How this will enable you to give back to the wider HE community
Give an outline of the areas you might be able to cover in a working session
To apply, please access the online form below.
Deadline for applications is Monday, 16 March.