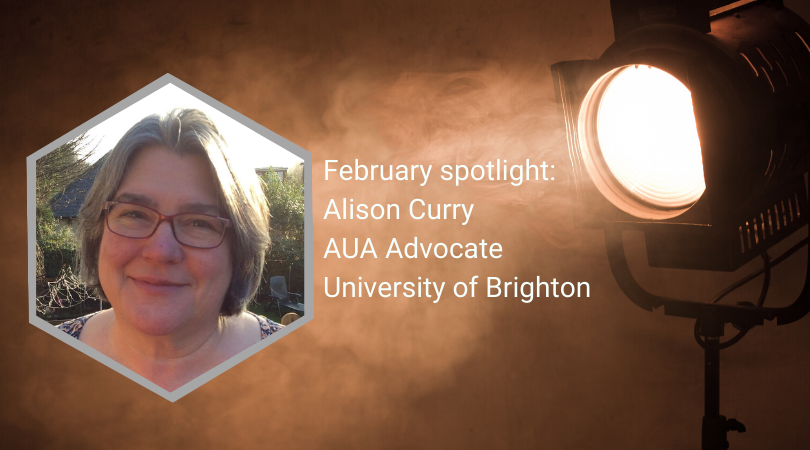 The February member spotlight is on Alison Curry, AUA Advocate for the University of Brighton.
Why do you do it?
I originally joined the AUA because, after a long career in recruitment, moving to an administrative role in Higher Education was a very, very, steep learning curve, and my line manager recommended it to give me some context for my new job. As the Centre Co-ordinator at the Centre for Learning and Teaching, which is, in part, a staff development team for academic staff, it felt appropriate to take on the Advocate role when my predecessor stepped down. I've been doing this for around 10 years now and I've really enjoyed all the opportunities it's given me.
What has been the best bit so far?
Very recently, myself and my fellow Advocate from the University of Sussex, jointly organised our Regional Symposium in Brighton. We had a really strong programme focussed on Finding Solutions and around 80 delegates came from across the region, feedback so far has been very positive! For me, this is one of the best aspects of my AUA membership – meeting colleagues who face the same daily challenges, and who are able to share their practice in a supportive and professional way.
But, if I'm honest, probably the most useful part of my AUA membership in recent years has been access to the AUA resources and Perspectives, I would not have got through my recent PGDip in Business Administration without it!
Would you recommend the role?
I'd definitely recommend taking on a branch Advocate role – we have a relatively small membership at the moment and, because I link the group together as Advocate, I can really get to know everyone. I enjoy sharing the great work that the AUA does with my colleagues and have presented at staff conferences in the past. We are also currently undertaking some major changes in our institution-wide professional staff development, and I would not have been involved in that if it wasn't for my AUA role. So it's personally developmental, builds your networks and helps raise the profile of the Association – definitely a win-win!