Experience Vs Innovation in Departmental Administration
Experience v Innovation in Departmental Administration: Fresh Perspectives on re-defining the role of School and Departmental Administrators, Embracing Uncertainty and Maximising the Potential of Departmental professional Services Staff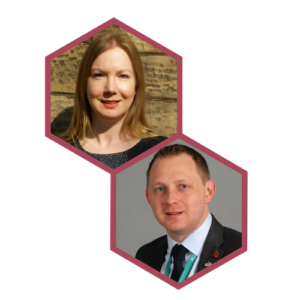 Katie Allan MAUA | Faculty Education Manager, University of Bristol & AUA Network Coordinator
Sam Bayley FAUA | Department Manager, University of York & AUA Trustee
---
In April 2018, we teamed up to deliver a session at the Annual Conference which aimed to reflect on the different ways in which Department Managers might best cope with, and learn to adapt to, the increasing uncertainty facing the sector. Whilst, at the same time, finding a way to focus on maximising the potential of professional services staff working in a faculty, school or departmental context at both the individual and team level.
Academic Schools or Departments have always been central to academic life and the Departmental Administrator has long played a central role in how schools/departments operate and how they perform in the short and long term. However, these roles have changed rapidly and significantly over the past few decades. Many Departmental Administrators now manage large multi-functional teams, control substantial budgets, and devise departmental strategy alongside senior academic colleagues. This expansion in role has been accompanied by changes in role title, with 'manager' or 'executive' now commonly forming part of a title.
This change was also accompanied by a move to substantial centralisation and professionalisation of support services.  These may have made institutions more efficient, but at the same time, they have risked eroding the identity and personalised service that makes universities a great place to work and study for staff and students alike.  In this period, Professional Services have replaced academic staff as the largest staff groups in many universities (as a sector, 51% of staff employed in 2016/7 were in support roles according to HESA returns). While some see this as a damning indictment of the sector, it offers a number of opportunities for innovation and the development of services more suited to the needs of 21st century students and staff.
So, what are the benefits of experience?  An experienced Departmental Administrators can combine an in-depth knowledge of processes with a significant level of trust and goodwill established with colleagues over a long period, and they can be a focus of calm and authority during periods of change (indeed, often this individual departing is the one thing that will induce panic!).  The key here is for the experienced Departmental Administrator to avoid the trap of becoming too comfortable and "unconsciously competent" within a role such that necessary innovation is stifled and the team becomes set in its own way of working. Colleagues in this position should make use of their internal and external networks to keep up to date with changes and developments, to learn new ideas, to develop new approaches and enhance their existing skills set.  
Newer Departmental Administrators may lack the levels of trust that their longer-serving peers benefit from, but they are well placed to innovate and may be more open to delivering the radical changes required to revitalise departments and set them on a new path. Their lack of attachment to existing processes can provide a valuable fresh perspective and help to break down any 'silo' mentality, impacting on effective new ways of working.
Change and innovation is often challenging and unsettling for any team, and academic colleagues can favour a highly consistent business-as-usual service over innovation. Again, professional networks have an important role to play here: with new and experienced colleagues working together to develop new approaches informed by local knowledge. Empathy, and an understanding of the disparate needs of other members of the department, is also key to success – take time to understand the short-term needs and long-term strategy of key academic groups, facilitate and respond to the student voice, and ensure decision-making processes are inclusive and transparent.
As the role of departmental administrators has changed, so have the skills and attributes that the job demands. These now recognise the importance of having a flexible and adaptable approach, being a team player, being able to work independently and to use initiative, to meet deadlines, prioritise workloads and be a strong communicator. In terms of progressing to a more senior leadership roles within a school or departmental context, the ability to manage large teams, to deliver meaningful change, to engage with the external context, to work within multiple complex policy frameworks and to interpret and analyse information and present findings to varied audiences are increasingly important.
Departmental administrators work closely with a vibrant mix of academic staff (of all levels of seniority) and students. Each of these groups expect a friendly and efficient service, but to be responsive to the needs of both constituencies can sometimes be a difficult balancing act! In addition, departmental staff must work with and influence colleagues from central professional services teams and faculties who'll be taking the "bigger picture" view – think about how you can understand their perspective so that you don't fall into the 'silo' of your own department. You might want to consider how you can engage outside your immediate area by, for example, joining recruitment panels to provide an outside perspective, volunteering for working groups, or, of course becoming an AUA volunteer!
Managing an academic department or school is a great privilege and can be hugely rewarding. A Departmental Administrator operates at the interface between the academic 'coalface' and the central services central to the success of the institution. The most effective and resilient administrators will draw on their experience to maintain a stable and consistent working environment, and use creativity and knowledge-sharing to innovate and implement meaningful improvements to the way their department, and the institution more widely, operates.