An interview with Giles Brown
Giles Brown has been an active member of the AUA for nearly twenty years.  During his time with us he has served as a Trustee, joining the board in 2008 and serving for two terms.  Giles has also been involved with Perspectives since 2005 undertaking a variety of roles including Editor in Chief, which he did for five years.  In 2014 he became editor of Newslink, enthusiastically spearheading the re-launch of the publication in hardcopy.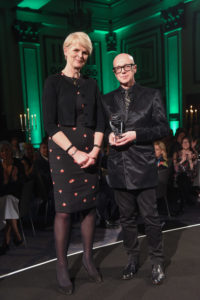 Over the last five years Giles has developed both the content and style of the publication; positioning it as a distinct membership benefit but ensuring it complements the Associations other publications. Having such a deep-rooted understanding of the Higher Education sector, meant that he was well placed to source insightful articles and intelligent perspectives across a wide range of subjects.  This year he received the Lifetime Achieve Award at the AUA Conference
We asked the Editor of Newslink a few questions for the last issue.
---
AUA: How did you first learn about the AUA?
Giles Brown: Through its publications. When I moved from an academic to a professional services role, as School Manager in the School of Geographical Sciences at the University of Bristol, my background meant one of the first things I did was look for the literature to support my responsibilities. This led me to the Association's journal Perspectives-Policy and Practice in Higher Education, and an active involvement in all the Association's publications. I have also been a member of the Membership and Communications Committee, and a Trustee of the AUA
AUA: What are you most proud of in your role as Editor of Newslink?
GB: A number of things spring to mind, rather than a single achievement. Offering a vehicle for first-time authors to share their experiences, skills and knowledge is certainly one, as well as supporting them through the process and seeing their writing skills and enthusiasm for writing develop. Another was the comments from a recent reader survey which highlighted the value our members place on the CPD elements of Newslink, which suggests we have got the balance right in terms of the breadth of articles in the publication. Plus, working with our authors and designer to balance relevant, timely content in a modern and attractive format.
AUA: What has been the biggest challenge in this role?
GB: Ensuring Newslink delivered sector news, interviews, professional development opportunities, events, branch and colleague news and more to members of the AUA which was timely and appealing to everyone. That, and convincing members of the Association that they indeed had skills and experiences in their roles, wherever they sat in the career 'hierarchy', that had value to others and was worth sharing in print. Finally, ensuring Newslink offered articles of interest to members for both career and professional development; at a particular point not everyone is looking to advance their career, yet we all need to stay relevant and up-to-date.
AUA: Why should our members write for the AUA?
GB: Many of the issues we face in our roles in HE, and the challenges we encounter as individuals, teams, departments and institutions are universal, yet we often tackle them as if they are unique (if not to ourselves then to our institutions). Whatever level we are working at, we all have skills and expertise which our colleagues can benefit from. Writing for the Association offers the opportunity to share these experiences, providing both solutions for, and alternative viewpoints on, shared problems, thus saving valuable time by not reinventing the wheel across more than 140 HEIs in the UK. In one of my external roles I get the opportunity to support others acting as spokesperson, and I find this experience invaluable in picking up tricks and tips for dealing with difficult and challenging situations. The same applies to writing for publication in our HE roles, and I firmly believe we all have something to offer in this arena, from frontline staff (who interact with students on a day to day basis) informing senior managers of their experiences to theoreticians examining the sector more widely.
AUA: What is your personal philosophy?
GB: Leonard Cohen, poet, musician and great chronicler of the human condition, said "Journalists, especially English journalists, were very cruel to me. They said I only knew three chords when I knew five!". This to me pretty much nails it in terms of a philosophy for me – don't let others constrain you, but don't overestimate your current abilities either – that way you'll develop your competencies through self-reflection, and achieve your goals and fulfil your ambitions with a degree of humility. Of course, I'm still practising and learning! That and the fact that, later in life, no one rues not spending more time in the office, so keep that work-life balance in balance