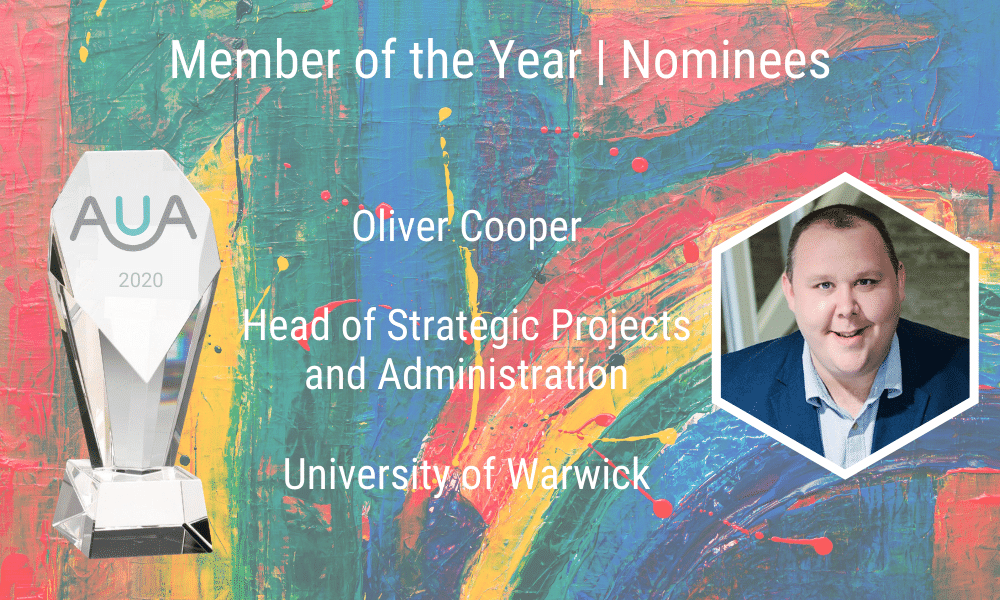 The AUA Annual Awards are usually announced and presented as part of our Gala Dinner. As our Annual Conference & Exhibition has been postponed, we have had to rethink how we will recognise and acknowledge the hard work by our members and networks for this year's awards.
Each weekday from Thursday 26 March, we will be publishing a short article about each member and network that has been shortlisted by our awards panel. This will lead into Monday 6 April, which would have been the date of this year's Gala Dinner, where we will announce the winners.
Here you can read about Oliver Cooper from the University of Warwick, who has been shortlisted for member of the year.
Why Oliver was shortlisted
Oliver's nomination describes him as very actively engaged in developing himself through additional AUA activities but also developing others. Oliver has completed the PGCert, PGDip, Masters through the AUA and is now a PgCert mentor. He has written for Perspectives, as well as producing blog posts for the AUA. He has also represented the AUA on the Japan Study Tour in November 2019.
The awards panel described Oliver as a dynamic, enthusiastic individual who was strongly engaged and clearly committed with the AUA. Particular praise is sought out for his involvement with the PgCert.