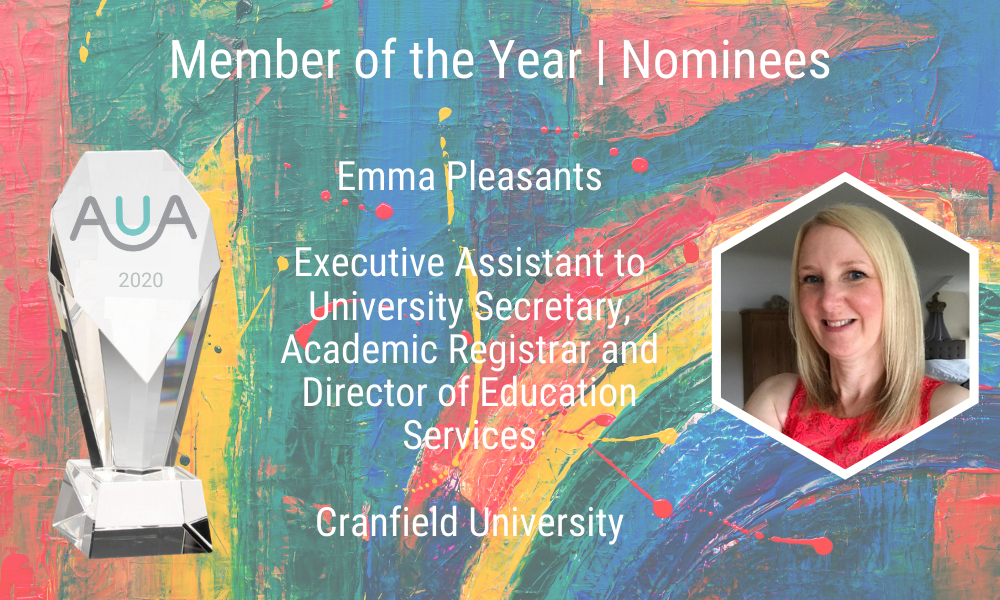 The AUA Annual Awards are usually announced and presented as part of our Gala Dinner. As our Annual Conference & Exhibition has been postponed, we have had to rethink how we will recognise and acknowledge the hard work by our members and networks for this year's awards.
Each weekday from Thursday 26 March, we will be publishing a short article about each member and network that has been shortlisted by our awards panel. This will lead into Monday 6 April, which would have been the date of this year's Gala Dinner, where we will announce the winners.
Here you can read about Emma Pleasants from Cranfield University, who has been shortlisted for member of the year!
What it means to be shortlisted
I was very excited to hear that I had been shortlisted for the AUA Member of the Year Award. This means a great deal to me on a personal and professional level. I hope that my experiences, in particular with the PgCert, encourages others to consider progressing with their studies. For me it has been an invaluable experience which has enhanced my professional practice and my own personal development.
Why Emma was shortlisted
In her nomination, Emma is recognised for her continuous support of the AUA PgCert, by encouraging others within her own network and other institutions to undertake the programme of study.
She currently mentors two administrative staff encouraging them with their personal development and is a true advocate on applying the CPD framework and the AUA Professional Values and Behaviours to her own and others professional practice.
Emma's institution has recently introduced key institutional values and has been an advocate in the use of professional behaviours to support the values identified and being adopted across her community.
The awards panel were impressed by Emma's involvement with the PgCert, both in her advocacy of it and her achievement in attaining a distinction on the course.