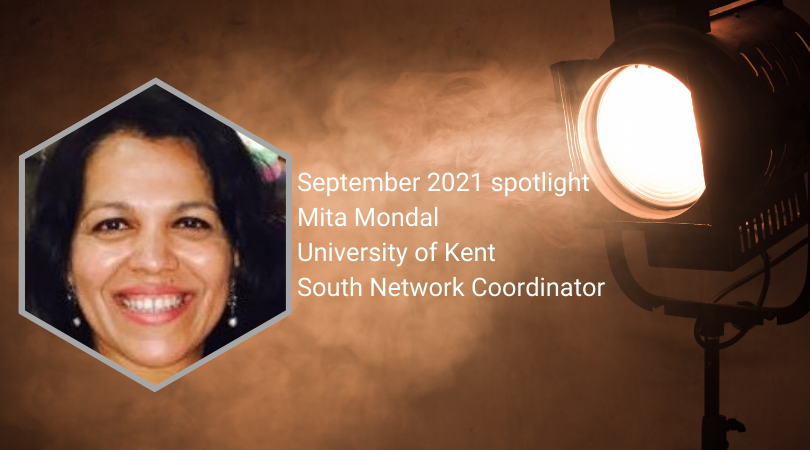 The September member spotlight is on Mita Mondal, Quality Assurance and Accreditations Manager at the University of Kent and the network coordinator for the AUA's South regional network.
Why do you do it?
I joined AUA in September 2014 and since then I have immensely enjoyed being part of the organisation and the enriching experiences it brings. Being a member of AUA allows you to join a national network of like-minded professional services colleagues across the country. This network helps you to learn from other AUA members through joining in with regional and national conferences to enhance your professional development. Helping in this role is a real joy as you get to interact with so many different people and learn from them and their experiences.
The ethos and learning opportunities are endless and you come across people who are willing to support and help you in your journey. Looking back on my career, I feel I have benefited greatly from the excellent mentors who encouraged me to join and be actively engaged in AUA projects. This has been rewarding and I do like the buzz! I have greatly benefited from being part of AUA and have been blessed with line managers and senior colleagues who have supported and encouraged me along the way.
I feel it is time for me to give back, so since 2020 I have taken on the role of South Network coordinator. While it has involved a lot of work and has been challenging I feel I have benefited greatly and grown in my role from doing so.
What has been the best bit so far?
Without wanting to state the obvious, COVID has been a huge challenge! However, it has also had its benefits because we now have the technology to communicate with members (and non-members who can see the great things that we do) on a much bigger scale than previously. All the sessions, which were arranged in the South network have managed to bring together 100+ signed up attendees, which is great to see. We have had great speakers talking about various topics such as HE Beyond Brexit and Pandemic, Opportunities for enhancing student experience through Internationalisation at home, looking after mental health during and after COVID and personal development courses. It has been fantastic to see the level of attendance at events and the level of engagement that members have had during the events. I have had so many encouraging messages and that really means a great deal.
Would you recommend the role?
Of course, without any hesitation I would recommend AUA role to anyone who is interested in being an active part of the AUA community and who wishes to grow professionally and personally. It is such a wonderful way to connect with wider colleagues in the HE sector and work with other professional services colleagues; I am a big believer of HE and its transformative power. My personal commitment to HE drives me to do better and I think if I can make a difference to a person's life through my work that is a wonderful feeling indeed.