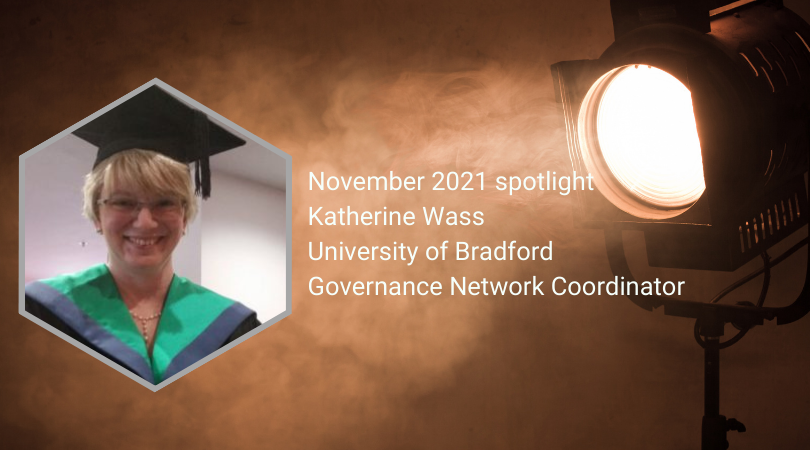 The November member spotlight is on Katherine Wass, Governance & Projects Officer at the University of Bradford. Katherine is one of the Network Coordinators for our Governance themed network, and took part in proposing the network in 2019!
Why do you do it?
I became involved in the AUA through the PGCert in Higher Education Administration, Management and Leadership. Something I decided to undertake to develop my knowledge of HE as someone who was quite new to the sector. Having previously worked in the Financial Services sector, I can confirm the differences are substantial!
In 2018 I moved to a role in the University Governance Team and was looking at options to develop my knowledge and network in this area. I could not find anything that was really sector specific and aimed at my level. I decided to approach the AUA about creating a new themed network. It turned out I was not alone, and the AUA agreed to merge the proposal with one that had been put forward by colleagues from Newman University and the University of Leicester. In late 2019 the Governance Themed Network was born, with 3 Co-leads, lots of ideas and enthusiasm.
What has been the best bit so far?
Perhaps strangely the pandemic has, provided the opportunity for best bit so far. Whilst we had to scrap initial plans, the informal online sessions with colleagues of all levels from across the UK willing to share experiences, challenges, and knowledge with each other have been just amazing. We really do work in a fabulous sector.
Would you recommend the role?
Yes, I would recommend the role as something that provides lots of development opportunities and makes a real difference to colleagues. The amount of time and effort needed should no be underestimated but the potential rewards are worth it. While things may not have gone as originally planned, I have no regrets about getting involved.