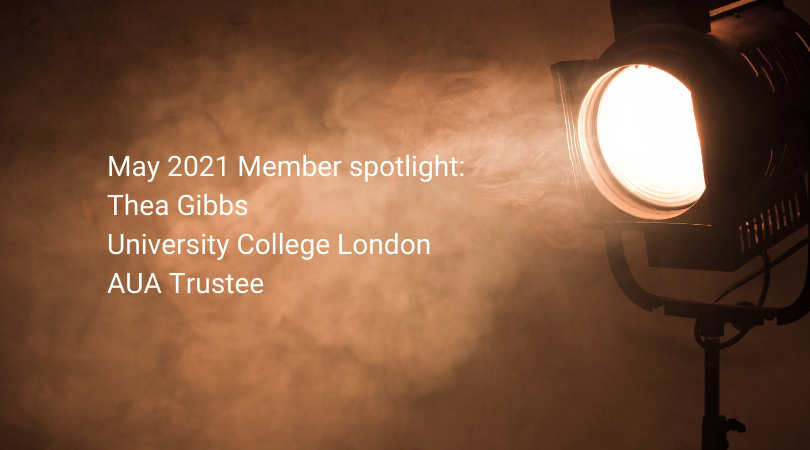 The May member spotlight is on Thea Gibbs, Director of Operations, Faculty of Law at University College London. Thea is is one of our current Board of Trustees members.
Why do you do it?
Looking back at the start of my career I remember vividly a number of pivotal moments when a manager or mentor shared some hard-won wisdom, or encouraged me to stretch myself and my skillset. Since then I have line managed and mentored dozens of staff myself, and there's nothing better than seeing someone develop their skills and confidence to reach their potential, even if that ultimately takes them beyond the organisation.
In working with AUA, we can make such transformations on a bigger scale, and all our institutions benefit from a pool of well-qualified, highly professional colleagues. That's why I enjoy working as an AUA Trustee, and I see it as paying back all those who helped me in my career journey.
What has been the best bit so far?
I've really enjoyed working with so many experienced, committed colleagues and being able to have strategic level conversations informed by decades of experience across the whole sector. Some of our AUA consultants have also contributed their insights, and it's great to still be learning after nearly 20 years in the sector! I'm also full of admiration for the small AUA team who do a fantastic job behind the scenes keeping us all informed and connected as a professional network.
Would you recommend the role?
Absolutely! It's so easy to feel consumed with the day to day demands of your work, but the Trustee role allows you to step back and see the bigger picture of the wider profession, feel part of something beyond institutional boundaries, and see that your professional identity is more than your job title. We do need more diversity in our board membership, so I'd particularly recommend the role to those who can bring fresh insights, perspectives and experiences to strengthen AUA's work.