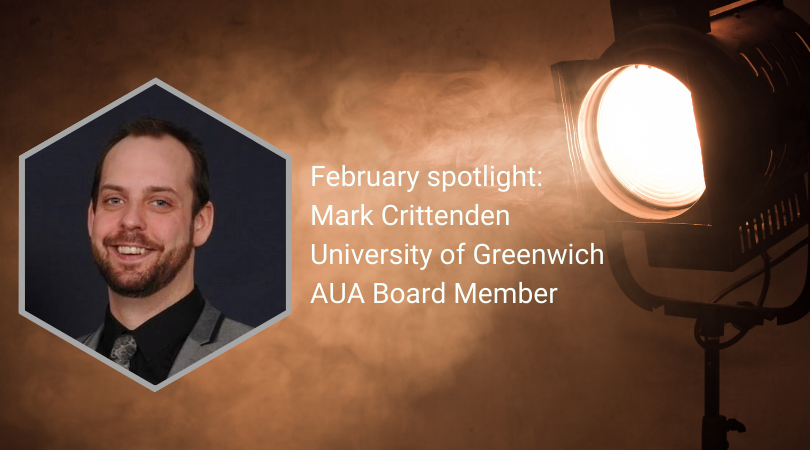 The February member spotlight is on Mark Crittenden, Head of Student Centres, University of Greenwich. Mark is one of our current Board of Trustees members.
Why do you do it?
I have been a member of AUA for virtually all of my career in HE after being "advised" (very strongly) by my then line manager that it would be good for my career. During my time as a member, I have been an advocate at my institution, the regional Network Coordinator for Anglia and London and came to think to myself "what can I do next". Having spent a lot of time on "the shop floor" of some of the regional membership activity, seeing what AUA was doing to enhance peoples opportunities and hearing the reflections of members in my region, I saw an opportunity to take my experience and share it with the strategic levels of the Board.
Being a member of the Board is a great place to share opinions, views and reflections in a massively collaborative way and makes me feel that I am giving back to the AUA community. I also feel that there might not always be the opportunity for professional service colleagues to develop and enhance their careers within their own institutions, but that AUA definitely had a huge part to play in filling that gap and doing something great for the members.
AUA and my time on the Board has truly been a rewarding experience and, I feel, has supported the progression of my career.
What has been the best bit so far?
It is difficult to single out just one bit. I really enjoyed leading a short life working group on our AUA values, being part of discussions about the strategy, new ways of supporting the sector and giving members new opportunities through consultancy and working through with other trustees ways we might be able to support members and the direction of AUA have all been amazing
However, the bit I think has been the best is the people. I have learnt so much from the team in the Office and the other Board members, simply through discussions in and out of the board meetings. Having these discussions had added to my view and understanding of HE and improved my strategic outlook.
Would you recommend the role?
Definitely. For me, when I started my time on the Board, I had only just become a line manager and through this experience I have definitely developed in myself and it has played a huge part in improving my confidence in how I conduct myself. I think this has played a huge part in my progression to take me to where I am now, which is a Head of section and a member of my directorate's leadership team. It has been a rewarding experience and an enjoyable one and something I would definitely recommend.