AUA Annual Awards
The AUA would not be the thriving association it is without the hard work and dedication of our members. Our members are the AUA. They are our Trustees, they run our professional networks, they advocate on our behalf within their organisations, and support their colleagues studying the AUA PgCert and are committed to the development of others.
It's time to say, 'thank you!'
AUA Awards
The annual AUA Awards go some way to recognise and celebrate the contributions and achievements of you, our members, but we need your help!
Who has made a difference to your local network?  Who introduced you to the AUA and started your AUA journey? Who has supported your professional development?
Please take the time to nominate an AUA colleague, or indeed yourself. Don't be shy in letting us know what you have achieved!
Award Categories
Best Networks Team
Connecting you with professionals within and beyond your own organisation and with other members who share your professional interests is what the AUA is all about.  This award is all about recognising the teams of network volunteers who work together to bring you together. You might want to nominate a team behind your geographic or thematic network, or a team of advocates at your institution.
Member of the year
This award recognises the contribution of an individual member. The judges will be looking for a high level of commitment and dedication to the AUA. Perhaps an Advocate or Network Coordinator has gone the extra mile to help you, or maybe their work has raised the profile of the AUA. It could be a member who has utilised or adapted our CPD Framework, and any of its related resources, or the PgCert, to support the career development of themselves and others.
Lifetime achievement award
The lifetime achievement award is our chance to say a big thank you to a longstanding member whose sustained and significant contribution to the development and leadership of the AUA has helped advance professionalism and promoted excellence across the HE sector.
Previous winners
2022 AUA Network Team Award winner | Student Experience and Engagement
---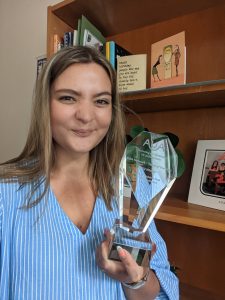 Shortlisted for this award were:
Student Experience and Engagement themed network. The panel described the network as active, engaging and innovative, promoting professional development and the AUA as a whole. This has included tailored events, such as their regular coffee break sessions. The have also produced varied communications to benefit its members, such as an interview series with network members and articles highlighting relevant events.
Governance themed network.The panel was impressed by the network's growth during the pandemic, and engagement, including them developing and hosting a number of varied online sessions. They have encouraged engagement across networks and beyond, including CUC, Advance HE and AHUA. The panel stated that there is evidence of even greater things to come from the network.
Newcastle University branch advocate team.The panel praised their impact at an institutional level, including the compelling list of activities and actions they have utilised to keep the network's membership engaged. These include securing financial support for staff to attend AUA events, continuing an internal PgCert mentoring scheme and developing a newsletter.
2022 AUA Member of the Year Award winner | Mita Mondal
---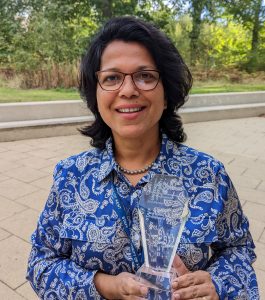 Shortlisted for this award were:
Mita Mondal, University of Kent. The panel noted that she has undertaken her role as South regional network coordinator with collaboration and positivity in mind. There was evidence of her commitment to her profession, her own development and inspiring others. Mita has embraced online delivery to keep engagement high, and been proactive in promoting the benefits of membership.
Lucy Johnson, University of Warwick. From her nomination, the panel described her as a dedicated member making a difference locally and as a mentor. She has demonstrated effective management of complicated work priorities, along with evidence of positive actions and accomplishments. Her achievement in securing a bursary to attend CAUBO was particularly praised.
2022 AUA Lifetime Achievement Award winner | Hugh Jones FAUA
---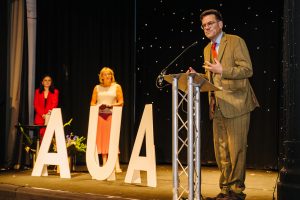 Hugh Jones has work tirelessly for more than 20 years supporting, developing and leading colleagues in the UK higher education sector.
Through his numerous institutional roles across England and Wales, he has brought his unifying approach to countless endeavours. As a compassionate leader, Hugh has invested his time and energy into positive change through decades of tumultuous change in the sector. His kindness and strategic thinking has extended beyond his own reports and has helped shaped venerable institutions including University of London, City University London, Goldsmith's, St. George and Cardiff. Pauper or Prince – Hugh makes no distinction; he treats colleagues both senior and junior with dignity, respect and encouragement to be more than our current circumstances dictate.
He dedicates endless amounts of time and effort to support the development of rising sector stars as course leader for the AUA's PgCert in HE Administration, Management and Leadership. He lends his considerable knowledge and experience to the strategic development of University of South Wales and Birmingham City University as Governor and member of essential governance committees and working with senior leaders to shape the direction of their institutions.
Those who have worked with him are familiar with Hugh's cheerful, generous spirit and his seemingly bottomless well of knowledge about our sector.
Those who haven't worked with him directly have unknowingly benefitted from his impact as his work continues to lift us all through his proactive development of our profession. He brings out the best in people and believes in what we do. His commitment to the HE sector is exceptional and is worthy of special recognition.
Kelli Wolfe – University of Roehampton
2021 AUA Network Team Award winner | North Wales and North West
---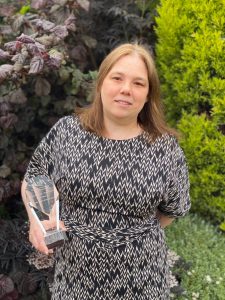 Shortlisted for this award were:
North Wales and North West. The panel was impressed by the network's creative development of their Regional Accreditation Peer-Learning Groups. They described the groups as an interesting initiative which provide the network with new development opportunities. Moving the annual regional conference online, along with regular contact and support of regional members was also praised.
International Higher Education themed network. The panel credited their strong work with their virtual study tour, which explored the development of sino-british Trans-National Education. The virtual study tour had widespread engagement with other key HE bodies, and the production of their report received particular praise from the panel. The study tour made both contributions to the themed network itself and raised the profile of the AUA
Managing Change themed network. The panel were impressed by how they moved their flagship annual open forum event online, including how the programme was adjusted. They were also praised for paying attention to contributors and for maintaining the network through the pandemic
2021 AUA Member of the Year Award winner | Emma Flight
---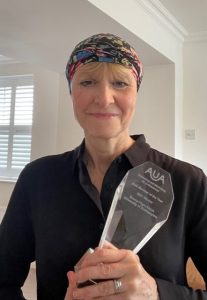 Shortlisted for this award were:
Emma Flight, University of Roehampton. The panel acknowledged evidence of Emma's initiative and commitment to embedding AUA competencies and values institutionally. 
She has engaged a wide-range of staff in AUA activity, along with instigating an AUA working group and a professional development programme. The panel were impressed by how these two initiatives incorporated and embedded the AUA professional behaviours. In addition, work was done in regards to growing branch membership.
Dan de Sousa, Brunel University London. Dan's nomination shows their attempts to increase visibility and engagement at with the AUA at Brunel, with a link to Dan's activities and growth in institutional engagement with the Association. Dan has embedded understanding of the CPD framework, AUA values and the Mark of Excellence. An advocate since 2017, the nomination shows long-standing, effective contribution and commitment to the AUA. 
Kate Moss, University of Central Lancashire. Kate made contributions at numerous levels, including at her institution and peer network. She has also contributed significantly in her role as North Wales and North West Network Coordinator. The nomination highlights her work in promoting the AUA, along with supporting colleagues in applying for AUA recognition 
2021 AUA Lifetime Achievement Award winner | Dr Bruce Nelson
---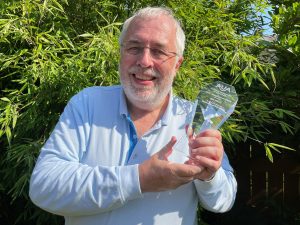 Bruce has been a member of the AUA for over 20 years. During that time he has given a significant amount of his time and expertise to the AUA including as a member of the Executive Committee 2003-11, Vice-chair and Chair-elect 2005-06, Chair for 2006-08, and Treasurer 2010-11.
His impact in Higher Education is extensive, acting as a member of the AUT Committee, non-executive board member for the Student Awards Agency Scotland and Member of the Court of the University of the Highlands and Islands. Along with taking part in international reviews and consultancy projects.
Bruce has had a highly successful career in the University of Edinburgh. Starting as and Administrative Assistant in Registry & Planning in 1984, he eventually became Academic Registrar and Deputy Secretary before progressing to his current role of College Registrar in Science and Engineering.
His impact during this time has been on more than this just his own career though. As an advocate of the AUA and firm believer in taking control of your own career, Bruce has been dedicated in nurturing and supporting staff and sharing his own journey and experience. Many colleagues are thankful to Bruce for his encouragement and belief that has and continues to allow them to grow their own careers in higher education.
Bruce will retire at the end of May 2021 and we would like to take this opportunity to thank him with this award for all that he has done during his career.
Claire Vallance – University of Edinburgh
2020 AUA Network Team Award winner | University of Bath
---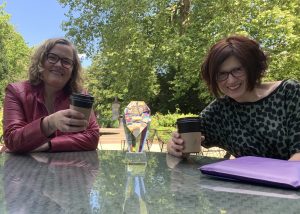 Shortlisted for this award were:
University of Bath Advocate team. The panel were particularly impressed by their Stepping up to management course and how it utilised the AUA's CPD Framework. There was also praise for the range of events being ran, including for the scope they had. Membership was also promoted well, with a clear growth in numbers.
Student Experience & Engagement. The panel recognised the strong first year the network has had. The initiative shown to engage other HE bodies was particularly praised, along with the well attended event held in co-ordination with the Quality and Standards themed network.
Newcastle University Branch Advocates, who were praised by the panel for their clear focus in promoting wider membership activity. They also had an impressive list of achievements, including renegotiating existing and securing new funding to help staff attend AUA events, providing a variety of internal events and running an internal PgCert Mentoring Scheme.
2020 AUA Member of the Year Award winner | Joanne Caldwell FAUA
---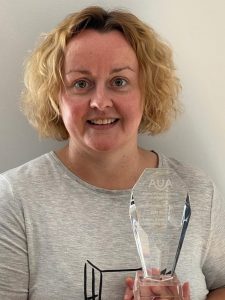 Shortlisted for this award were:
Joanne Caldwell, from the University of Salford. The awards panel were particularly impressed with Joanne's long-term engagement and advocacy with the AUA, along with how she had achieved Fellowship by supporting others and her role as a PgCert mentor.
Oliver Cooper from the University of Warwick. The awards panel described Oliver as a dynamic, enthusiastic individual who was strongly engaged and clearly committed with the AUA. Particular praise is sought out for his involvement with the PgCert.
Michael Monaghan, Liverpool John Moores University. The panel acknowledged Michael's long list of achievements, with particular praise for his strong enthusiasm for supporting others and promoting the AUA at Liverpool John Moores University and the North Wales & North West regional network.
Emma Pleasants, Cranfield University. The awards panel were impressed by Emma's involvement with the PgCert, both in her advocacy of it and her achievement in attaining a distinction on the course.
2019 AUA Network Team Award winner | The North Wales and North West geographic network team. 
---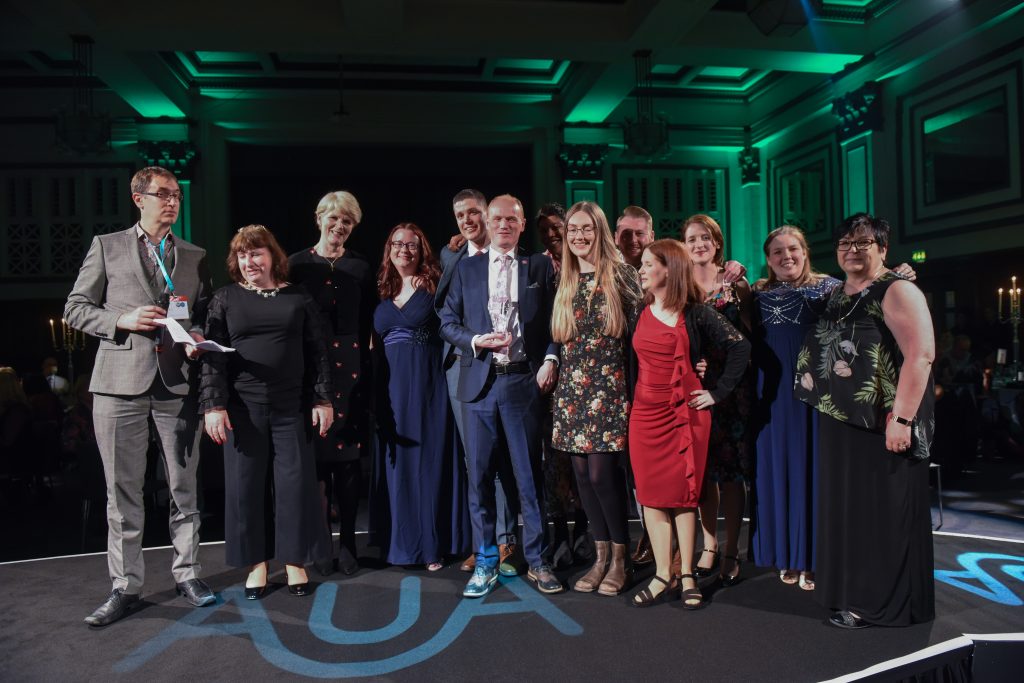 Shortlisted for this award were:
North Wales and North West geographic network team. Here the panel were happy to hear about two new initiatives which stand out as examples of networks best practice:
Firstly, the network team building exercise of recording an AUA Christmas single, which was intended as a demonstration of how to make CPD fun.
Secondly, the AUA CIVIC initiative, which provides institutions spread across a large geographic areas with a way to connect, develop, network and share good practice all through a novel use of google hangouts. The panel recognised how this should be a model initiative for all networks going forward
Newcastle University Branch Advocates whose nomination impressed the panel due to the impressive rise in the number of members and the increase in funding opportunities for both the PgCert and the Annual Conference. It was clear to the panel that members at Newcastle have benefited from having such a dedicate team representing their interests.
2019 AUA Member of the Year Award winner | Michael Monaghan FAUA
---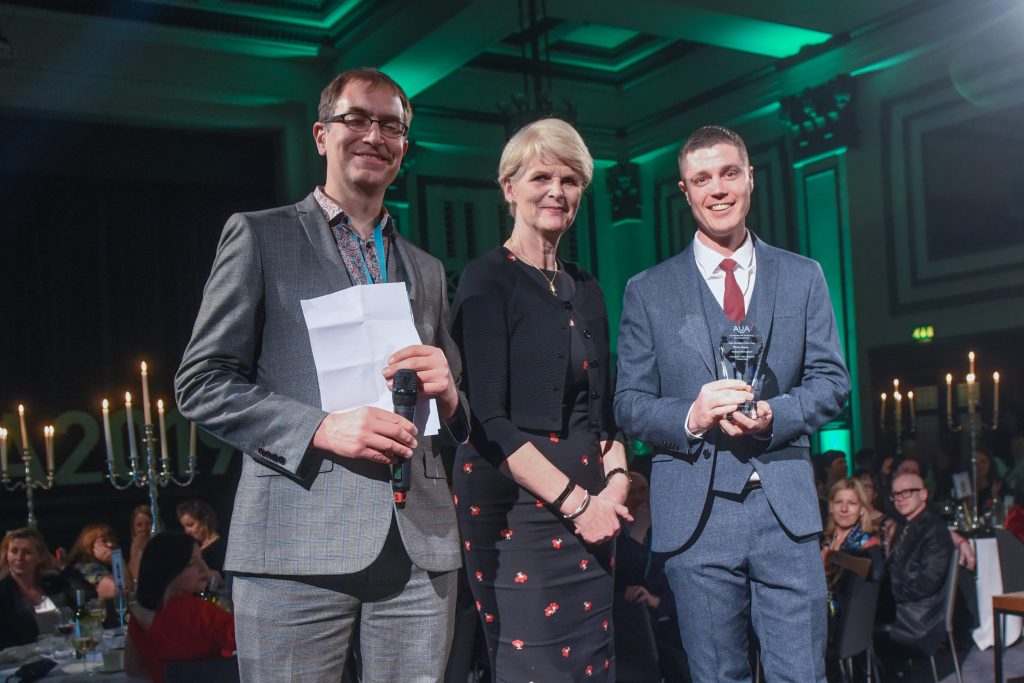 Shortlisted for this award were:
Michael Monaghan, from Liverpool John Moores University. His nomination impressed the panel due to how he has engaged with the AUA CPD framework, given back through the resources he has developed and innovated through his involvement with the AUA CIVIC initiative.
Diane Lloyd from the University of Salford, whose long service contributions to the AUA in a range of activities both a local and national level stand out as excellent examples of the AUA values and behaviours.
The third nominee was Ashleigh King. As part of the team at Newcastle we have heard how she has been key to ensuring an impressive growth in AUA membership numbers and securing institutional funding for AUA activity. Members at Newcastle have singled Ashleigh out for how she goes the extra mile to deliver the support for her local members.
And finally we come to Saad Qureshi, who is clearly an energetic and enthusiastic AUA member. He has shown a real commitment to the AUA through his Board of Studies work and development of reflective writing guidance. Saad has also taken the time to share his experience with the AUA and his career with the wider membership though an AUA career story.
2019 AUA Lifetime Achievement Award winners | John Hogan and Giles Brown
---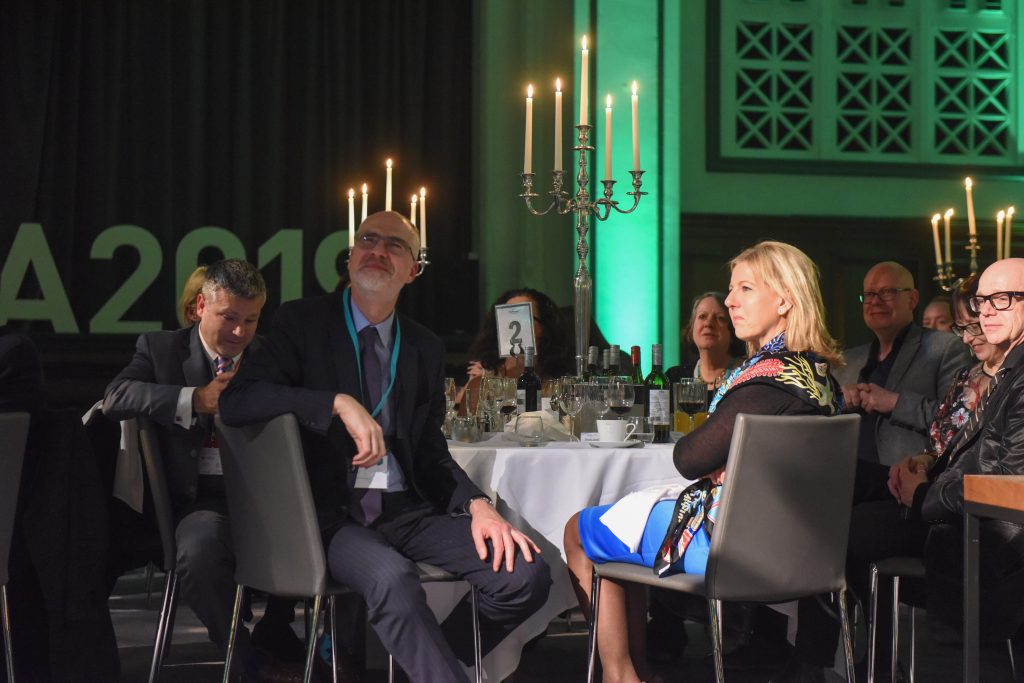 John Hogan
John took this role as Chair of the Perspectives EAB in 2012, and his dedication and contributions have been an inspiration to all its membership throughout his term.  John also served the AUA as a Trustee and as Treasurer during his time with us.
He has also been extremely successful outside of the AUA. In 1993 he moved to University of Durham as Academic Registrar, only to be promoted to Registrar and Secretary in 1999. Since 2002 John has held the post of Registrar and Secretary at University of Newcastle. And just when you think his commitment couldn't extend any further, John has taken on various other tasks and roles to benefit the HE sector. He has been a senior member of the Association of Heads of University Administration and is a former Chair of the Russell Group Registrars. He has served as Honorary Secretary to the UK Council for Graduate Education.
In David Law's words, "John epitomises the values of AUA. He is a modest and unassuming individual who, in my experience, always makes time for his colleagues. He is deeply committed to the enhancement of the student experience and the improvement of professional services."
And to quote john himself, in a video clip on the AHUA website: "We change lives for the better …why would you not want to work for a university?"
This year John Hogan is due to retire from his role as Chair of the Perspectives Editorial Advisory Board and we all felt that this is an appropriate time to recognise all that he has done for AUA, and for the sector.
---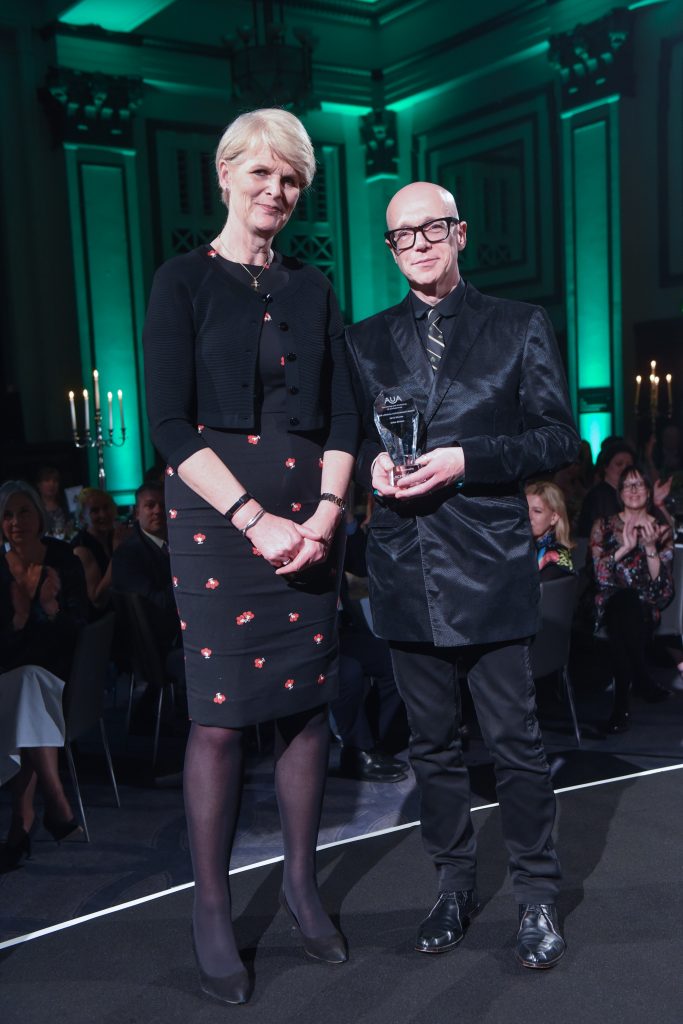 Giles Brown
Giles Brown has been an active member of the AUA for nearly twenty years.  During his time with us he has served as a Trustee, joining the board in 2008 and serving for two terms.  Giles has also been involved with Perspectives since 2005 undertaking a variety of roles including Editor in Chief, which he did for five years.
In 2014 he became editor of Newslink, enthusiastically spearheading the re-launch of the publication in hardcopy.  Over the last five years Giles has developed both the content and style of the publication; positioning it as a distinct membership benefit but ensuring it complements the Associations other publications. Having such a deep-rooted understanding of the Higher Education sector, meant that he was well placed to source insightful articles and intelligent perspectives across a wide range of subjects.
He has enthusiastically supported and encouraged the professional development of both AUA Marketing and Communication's Officers, who have worked with him to produce Newslink; and he has always been a reliable sounding board and source of support for the AUA team. The AUA would not be what it is today without him. We thank him for his contribution and dedication.
2018 AUA Member of the Year Award winner | Ruth Coomber, Cardiff University
---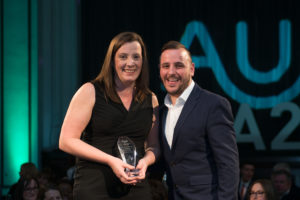 Shortlisted for this award were:
Ruth Coomber of Cardiff University, whose nomination told an impressive story of progression through the AUA, of a member who gives tirelessly to the Association, and who has had a great impact on the development of colleagues and peers.
Katie Allan of University of St Andrews who as Coordinator of the Departmental Administrators' network delivered a well-received one-day conference with an impressive range of high profile speakers. In addition, Katie supports the St Andrews branch and is delivering a session at this conference.
Michael Monaghan of Liverpool John Moores University, whose nomination impressed the panel due to Michael's ability to inspire and motivate his colleagues through their AUA and career development journeys.
And finally Sam Murphy of the University of Birmingham, whose enthusiasm and commitment to the AUA Behaviours, combined with a good range of activities and innovation contributed to a well-received nomination.
2018 AUA Lifetime Achievement Award | Jean Grier, University of Edinburgh
---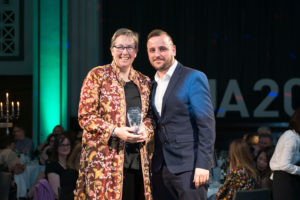 This Award is made in recognition of Jean's continuing and invaluable contribution to the AUA.  Jean is a go-to person who is always willing to share her knowledge and expertise of the AUA and HE in general. A Fellow, who has supported the AUA through writing for AUA publications, good practice guides, events and engaging at a branch and national level, this year's lifetime achievement award winner is long overdue for recognition.
2017 Winners

---
AUA Network Team Award | The North Wales and North West Network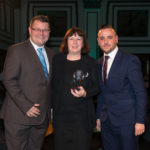 This nomination particularly impressed the judging panel, due to the commitment of the network coordinator Diane Lloyd, deputy coordinator Daniel Taylor, and advocates across the region, as well as the innovative events programme and the impressive increase in the number of Fellowships.
AUA Member of the Year | Michael Monaghan, Liverpool John Moores University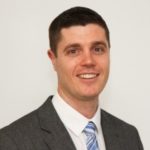 For Michael's creative modification of the AUA CPD materials to build a programme which supports 100 staff members through their Fellowship applications.
AUA Lifetime Achievement | Ann Hartley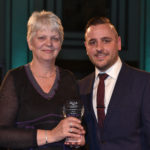 In recognition of Ann's invaluable and continuing contribution to the management of the AUA's PGCert and of her long career in HE, during which she has so thoroughly embodied AUA's values.
2016 Winners
---
AUA Network Team Award | St Andrews University Network
The panel were impressed not only by the rapid membership growth at the institution, but also how engaged all these new members have been. The institution has hosted events which have attracted members from across the Scotland Network.

AUA Member of the Year | Rachel Barnes
Rachael Barnes has been engaged with the AUA at many levels. As a successful AUA PG Cert graduate, Rachael has clearly demonstrated a commitment to her own professional development. The commitment does not stop there though; Rachael actively encourages the same focus in others and has recently volunteered to be a PG Cert Mentor.

AUA Volunteer of the Year  | Lisa Burton
Lisa Burton is an AUA Advocate at Warwick, a graduate and mentor of the PG Cert, a former member of the PG Cert Board of Studies and a former member of the Perspectives Editorial Advisory Board. In short, Lisa is involved in a lot! All volunteers need to be enthusiastic, but Lisa's success seems to be down to her remarkable ability to instil that enthusiasm in others.

AUA Advocate of the Year | Iain Forster-Smith
The panel were particularly impressed by Iain's successes in making sure senior staff are on board with the purpose and aims of AUA. From the very beginning, all new members of staff are presented with information about AUA at marketplace induction events. Iain's enthusiasm has resulted in growing numbers of members at the University of Bath.